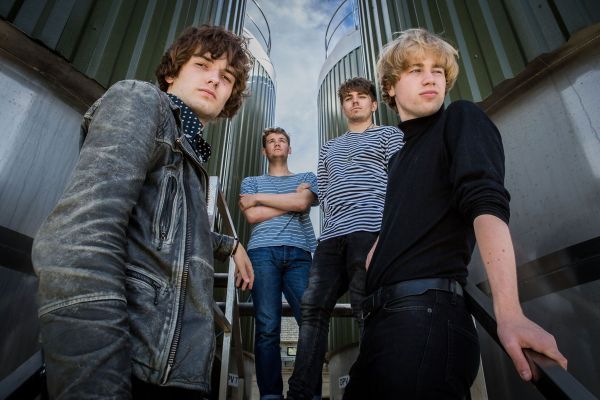 16 December 2016
The Velvet Hands; Photo Credit: Brian Robinson
With various comparisons to early Rolling Stones in sound and demeanor, new Cornwall/London, UK rockers The Velvet Hands encompass elements of The Strokes, The Stones, and the Clash on their garage rock 'n' roll story-telling tunes.
There is a swagger to The Velvet Hands' music, but sufficient depth in what they're saying to be taken seriously. They may be fresh-faced teenagers, but they've got an assured handle on the way the game is played. The band members are premiering their 4th single, "I Don't Mind" right here; an American debut for a very British, yet universal, indie rock band.
The new single is backed by B-side "The End" and it officially drops in vinyl format January 20th via Easy Action Records and on all major digital platforms.
The Velvet Hands have caused quite a stir in the one year that they've been around. Fusing anthems, art, and youthful energy and articulation with hard work, the band have chalked up 10,000 video views across YouTube and Facebook.
Toby Mitchell (guitar, vocals), Dan Able (guitar, vocals), Sam Hilder (bass), and Louis Willbourne (drums, vocals) revealed themselves to the general public in the fall of 2015 with the self-released double A CD & download of "Games" / "Who Cares". The kick-ass track "Habit" followed up hot on the heels of their debut release.
The Velvet Hands picked up some great online coverage, radio support from BBC Introducing and their first BBC 6 Music plays from Radcliffe & Maconie. The band also snagged support slots with The Bluetones, Yak, and Wild Smiles.
Their first (white 7") vinyl release, 'Trains" / "Curtains Closed" (Easy Action Records), was available on Record Store Day in April 2016 and all 300 copies sold out on the day. "Trains" won further airplay from BBC 6 Music's Radcliffe & Maconie. The Velvet Hands also picked up plays from Steve Lamacq and Tom Robinson on BBC 6 Music, Gary Crowley on BBC London, and continuing support from BBC Cornwall.
This fall has seen the band being spotted by UK landmark music event promoters including Mikey Jonn of This Feeling, Chris McCormack of Camden Rocks Festival, Mark Beaumont (NME/The Guardian), and other high-profile interest.
They are currently in Troubadour Studios, Falmouth, working on their debut album which is scheduled for release on Easy Action Records in Summer 2017.
Upcoming Shows:
December 29th – Christmas Carnage – Free Entry gig with special guests Bastard at The New Inn, Tywardreath
January 14th – Camden Rocks All Dayer 12-10pm Proud (TVH stage time; around 5pm)
January 20th – 'I Don't Mind' / 'The End' (digital and 7" blue vinyl – Easy Action Records – (EA45026))
February 8th – London Show with Mark Beaumont at The Monarch
Official Site
Facebook
Twitter
Instagram
YouTube