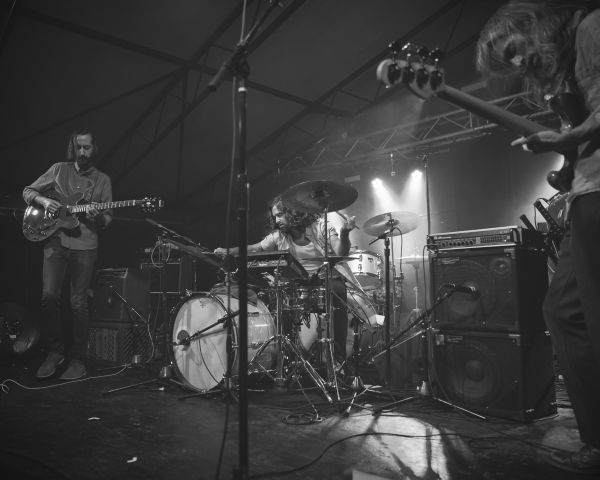 21 November 2017
Feverbones; Photo Credit: Brian Gray
Texan indie rock band Feverbones is readying to release its new album Dream Talk on February 23rd via Austin Town Hall Records. The Big Takeover has the first listen to a cut off the LP, the smoothly flowing, vocally harmonically glowing, mellow reverie "It's Hard To Look Away".
Feverbones first emerged with their self-titled EP in early 2014 (via Punctum Records). Abram Shook (The Great Nostalgic, Shearwater) happened across drummer/songwriter Matthew Shepherd and multi-instrumentalist/songwriter Christopher Cox when they met to collaborate on early tracks for Shook's 2014 solo release, Sun Marquee (Western Vinyl). Around this time, Shepherd and Cox had been recording and touring as a wildly dynamic rhythm section and sometimes as hired guns for a number of local and touring acts. After a summer's worth of meetings to talk shop and reinvent sprawling songs with questionable titles, Feverbones came together as a new collaborative channel for this trio of seasoned Austin musicians.
Upcoming album Dream Talk was written and recorded over the past three years with the band members aiming to write the songs together as much as possible, between their rehearsal space in South Austin and a winter retreat at Shepherd's family farm outside of Brenham, Texas. The LP was tracked mainly to tape at Cacophony Recorders and Good Danny's in Austin with the help of their good producer/engineer friend, Grant Johnson. The record was mixed by longtime friend, producer/engineer Justin Douglas at his studio King Electric.
In anticipation of the album, the band drops some details about it: "This collection of songs is a series of unreal scenes that sort of reimagines some of the more ecstatic or fucked up experiences we've had over the past few years. Ultimately they amounted to stories of heat-induced hallucinations, a heartbroken runaway's foolhardy attempt to disappear overseas, mundane city life, apocalyptic nights, strange nomadic characters, waking by still waters at Balmorhea. Most of these songs lead back in some way to aphoristic conclusions, ideas that rang true for one or more of us over the past few years, or some singular thought to turn over in your mind."
Website
Facebook
Twitter
Austin Town Hall Records
comments powered by