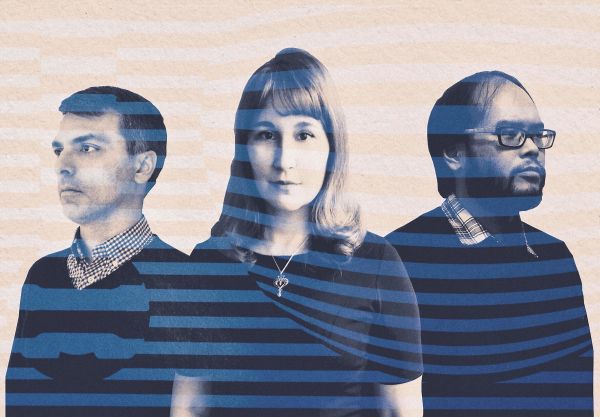 31 January 2018
Lake Ruth; Photo courtesy of Lake Ruth
Following their critically acclaimed debut Actual Entity (2016), NYC's Lake Ruth announces the release of their second album, Birds of America, out February 16th. Mixed by Grammy-winning producer Geoff Sanoff, the stereo LP will be available in a limited vinyl edition of 500 (cat: FC06) from UK collector's label Feral Child (Luna, Cheval Sombre, Pete Astor) and in digital format via Bandcamp and all major distributors.
The Big Takeover is pleased to premiere the second single off the album, the lovely "Julia's Call" which flows by with a gentle drum pace, sparkling, psych-tinged keyboard notes, bass line undertow, and light, sweet, and occasionally wistful vocals.
Lake Ruth was formed in 2015 by multi-instrumentalist Hewson Chen of The New Lines, drummer Matt Schulz (Holy Fuck, Enon, SAVAK) and vocalist Allison Brice, best known for her work with UK groups The Eighteenth Day of May and The Silver Abduction. Their expanded live line-up includes René Dennis (The New Lines), Sohrab Habibion (Obits, SAVAK) and David Mason (Listening Center).
Over the past 18 months, they have played NYC Popfest, Rooftop Films, The Bowery Ballroom, and other notable venues. Inspired by 1960s sonic experimentation, Baroque psychedelia, library obscurities, vintage pop noir, Giallo soundtracks, Kraut and jazz, Lake Ruth creates intriguing and unique music rich with multi-layered instrumentation, propulsive rhythms, and atmospheric vocals.
Birds of America's striking front cover features a detail from Edinburgh artist Alan Mills, Jr's 2016 painting "The Birth of Socialism". Lyrically, the album explores themes of oppression and resistance, survival, and escape. Its ten songs are populated by a collection of dispossessed characters, struggling to navigate the perilous landscape of a chaotic society at the nexus of destruction and rebirth.
Facebook
Twitter
Instagram
Bandcamp