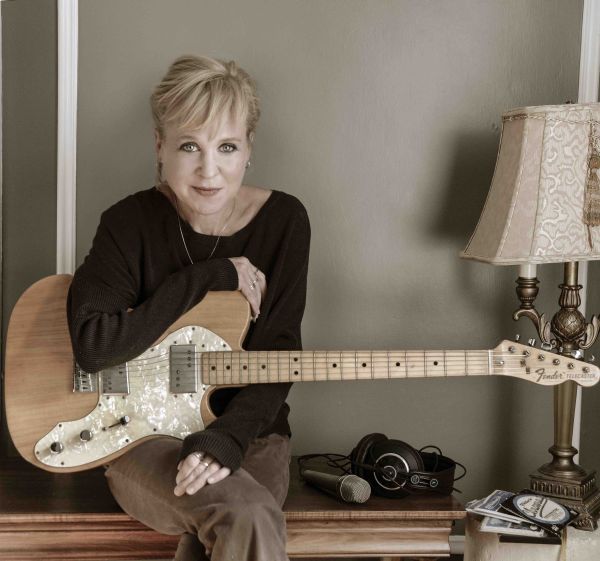 6 April 2018
Kristin Hersh; Photo Credit: Peter Mellekas
Indie rock legend Kristin Hersh, most recognized as the frontperson for the influential art-punk band Throwing Muses and power trio 50FOOTWAVE, will kick off a short visit to the UK this summer with her sold-out performance at Robert Smith's Meltdown Festival on June 21st, followed by a set of solo dates in Glasgow, Newcastle, Halifax, Cambridge, Ramsgate and Brighton.
The Big Takeover is excited to premiere "LAX" (Rough Version), a preview track from of Hersh's forthcoming album Possible Dust Clouds, slated for release later this year. It's a compelling cut that merges plaintive singer-songwriter vocals and grittier rock sonics.
Throwing Muses first gained traction in the early '80s, playing with similarly singular artists, such as The Pixies and Dinosaur Jr. They continue to release groundbreaking music, most recently with 2013's double CD masterpiece Purgatory/Paradise'. Kristin's solo career spun off in 1994 with the release of Hips and Makers, a widely acclaimed album that included 'Your Ghost', a duet with R.E.M. 's Michael Stipe. Since then, Kristin has released a steady stream of distinctly individual solo albums, including 2010's Crooked, released as her first in the inventive book/CD format for which she is now known.
2016's Wyatt at the Coyote Palace, on which Kristin played all of the instruments, received rave reviews; an explosive defined by blistering guitars, powerful drumming, and her signature visceral vocal technique. Her poignant true stories bring the listener into what the BBC calls Hersh's "dark and dizzy world".


In 2004, Kristin formed the noise rock power trio 50FOOTWAVE, releasing a series of frighteningly intense mini-albums, all available for download free of charge. Their most recent Bath White EP was described as "a series of loud explosions, of velvet like dreams all intermingled at the same time. Bath White takes no prisoners." 


Kristin's writing career has flourished with the highly acclaimed Paradoxical Undressing (released as Rat Girl in the USA) and the award winning Don't Suck, Don't Die, a personal account of her long friendship with the late Vic Chesnutt, as well as the enchanting books which now accompany each of her record releases.
Kristin Hersh's U.K. tour itinerary is as follows (with all dates subject to change):
June 21 – Meltdown Festival, London
June 24 – Mackintosh Church, Glasgow
June 25 – Square Chapel, Halifax
June 27 – Cluny 2, Newcastle
June 28 – Storey's Field Centre, Cambridge
June 29 – Ramsgate Music Hall
June 30 – Duke of York's Cinema, Brighton
Support for Kristin on these dates will be friend and former Throwing Muses and Belly bass player Fred Abong, who will be touring his new solo acoustic EP.
Website
Facebook
Bandcamp
Kristin Hersh's CashMusic
Twitter
YouTube
comments powered by