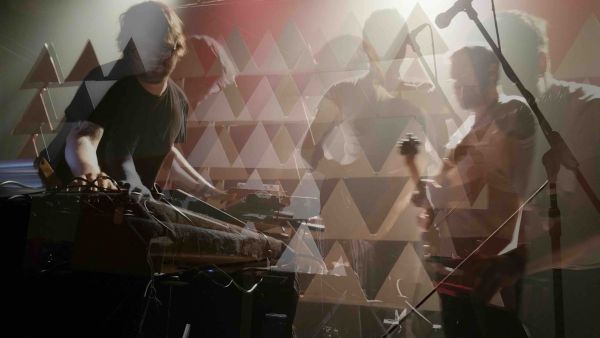 6 February 2018
Broads; Photo Credit: Matthew Tullett
Today we take a sonic trip to Norfolk in England's East Anglia region. Its coastline, the first part of Britain settled by early man was connected by a land bridge to mainland Europe 1.2 million years ago. Today, it is known as one of the more peaceful parts of the country, not only because it is still one of very few counties that doesn't contain any stretches of motorway, but also owing to its big skies, sparkling landscape of marshland fields, feathery reeds, and tangled woodlands.
And so The Big Takeover has the pleasure of introducing you to yet one other claim to fame for Norfolk – electronic duo Broads, named after Norfolk's man-made Broads, which is both a fabulous waterland and national park with over 125 miles of navigable lock-free waterways set in beautiful countryside amongst many charming and picturesque towns and villages. The Broads even get a special mention in David Bowie's "Life on Mars".
In any case, Broads' new 11-track album Field Theory releases in mid-month and it's a doozy. We've got the premiere of the second single from this release, entitled "Let Me Take it From Here." This track comes on the trail of "Climbs", which featured celebrated folk-pop artists Milly Hirst.
Broads' entire 'ield Theory album is outstanding and often enchanting with its positive vibe, original dynamic, and clever use of sound textures. Great music for self-reflection or just driving in your car, this music calls to mind Sylvian Esso, Plaid, Boards of Canada, Grouper, and some other Kranky Records output with elements of Tycho, Bonobo, and Telefon Tel Aviv.
Mainstays of the Norwich music scene, Broads are James Ferguson and Mark Jennings. They deliver a variety of music – always delicious – ranging from synth-pop bliss to a hybrid fusion of genres straddling the divide between ambient drone, post-rock, and shoegaze. Broads takes a fascinating approach with this album, tastefully showcasing completely different sides of their musical spectrum.
""Let Me Take it From Here" was one of those tracks that started off very simply and ended up being layered over – we wanted to do something very rich in movement and melody, whilst still retaining the incremental approach to building atmosphere that we're fond of," says James Ferguson.
"I guess the end result is a bit Errors -ish (especially with the live drum parts) – lots of angular pulsing and a distinctive drive. It's one we're really looking forward to playing live, as it's best when turned up really loud :) The title comes from the road cycling practice of taking it in turns to lead a group when riding into a headwind… sharing the load and pulling the others along behind."
Broads' new album is captivatingly diverse as far as electronica goes. "Climbs" recalls Melody's Echo Chamber and Broadcast, while "The Lecht" brings to mind both Mogwai and Boards of Canada. "Mixed Ability Sequencing" most strongly aligns with My Bloody Valentine and Slowdive, leaving you hanging with less than minute of pure guitar reverie, while "Habitats" brings the duo delightfully close to New Order territory.
Some very cool developments were happening for the duo, including work on a live soundtrack for the British Film Institute – composing for a sequence of archive film footage of rural/agricultural Norfolk scenes, and performing live in beautiful venues across the region – as well as a sold-out gig at the NAC with Plaid.
Broads release their Field Theory album on CD, vinyl, and digitally on February 16th via Humm Recordings. Their album release party scheduled for February 15th at the Norwich Arts Centre. The single "Climbs" is now available for download via online stores and Bandcamp, where the whole album can also be Pre-Ordered
TRACK LIST
01. Toze
02. Climbs
03. Habitats
04. Lund
05. Us and the Buzzing
06. Romero
07. Let Me Take It From Here
08. Tiamat
09. Mixed Ability Sequencing
10. The Lecht
11. Built Calypso
Also check out the new album's first single "Climbs":
BROADS
Bandcamp
Facebook
Twitter
Tumblr
SoundCloud
Instagram