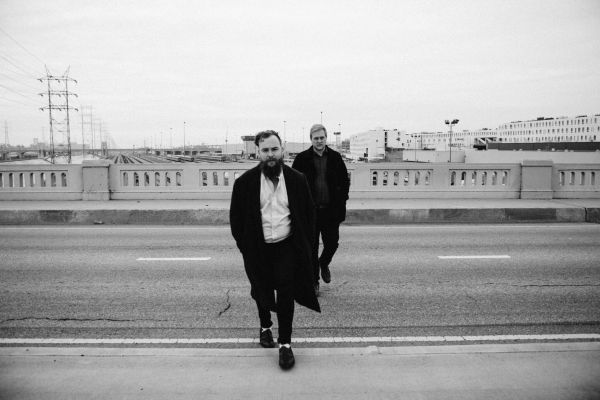 9 August 2017
Tree Machines (L-R): Douglas Wooldridge, Patrick Aubry; Photo Credit: Kasia Nawrocka
"I had probably a hundred different little riffs archived on my computer," says Patrick Aubry of Los Angeles-based indie pop/rock band Tree Machines about "Like A Drum," a track from the group's Up For Air debut album, out Sept. 22nd via the band's Man In The Machine label.
"Bleeps and bloops and arps and drums and rhythms, all placed in orders depending on my mood or state of intoxication when I'm making them. This song really smacked me in the face the first time I heard the chorus line "Our hearts, beating like a drum." I almost cried. All of my jaded pessimism seemed to wash away with those simple lyrics."
For his part, Aubry's bandmate, Doug Wooldridge (vocals, lyrics) says, "We were looking to build a movement with this track, so Mike Giffin (the band's producer and multi-instrumentalist) put together an epic drum break. Then we dropped it into a vocal and string arrangement leading to a fairly chaotic but powerful finale. The song has a lot of puzzle pieces."
"Working on "Like A Drum" is the epitome of why I like writing with other people," Aubry concludes.
Recently relocated from Lawrence, Kansas, Tree Machines built a safe room in Los Angeles. Not for security of the conventional kind, but for a place to unleash, and make the kind of music that is at once vulnerable and strong, without fear of consequence. Anthems for times that don't make sense, but carve a path forward. Call it a studio, if you have to. But you don't have to.
Here, Wooldridge, Aubry, and Giffin have been creating Up For Air. The upcoming album follows-up 2015's debut Tree Machines EP, which contained the single "Fucking Off Today," a difficult-to-ignore opening salvo that expressed Midwestern malaise (which these former Kansans know all too well) in a new way. Three more Tree Machines singles appeared during the summer of that year.
"We come from that Midwestern comfort," says Aubry. "I knew what the weekend held, and who I could expect to see stumbling home drunk from the bar. Rent was cheap, and the beer was cheaper. It was all so comfortable."
The Big Takeover is pleased to premiere the new and non-traditional electronic pop single "Like a Drum" from the imaginative and exploratory band. Delicately light and bright sonic textures created by electronic note runs, the occasional harp cascade and chimes jingle, symphonic synth strings, and wistfully plaintive, layered vocals weave in and out of an ever-restless and emphatic rhythmic percolation. Vocals merge with the instrumentation, creating a flowing hypnotic loop that is only broken by a hushed spoken word piece near the end of the inventive track.
Official Site
Facebook
Twitter
Instagram
YouTube
Vevo