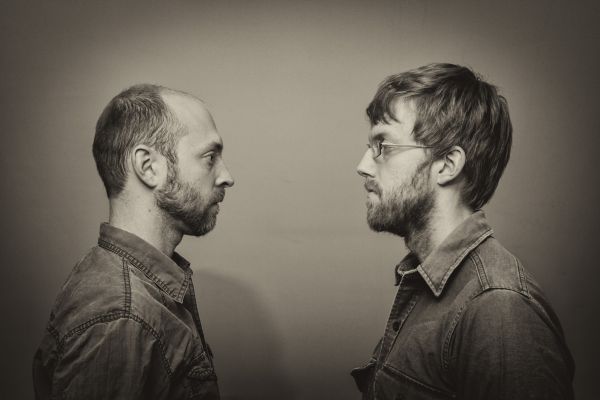 27 June 2017
Builder of the House; Photo Credit: "Dylan Verner":http://dylanverner.zenfolio.com/
Portland, Maine-based duo Builder of the House occupy a distinct corner of the the folk pop market. They are excellent avatars for the kind of hushed melodies we've all come to associate with the genre, but like a color-changing chameleon, they alter rapidly and authentically blend into more diverse and exotic material.
The Big Takeover has the pleasure of premiering their new single, "Lily", which channels the exuberant Afro pop vibes made popular by bands like Vampire Weekend, who were assimilating UK and US material which originally found its inspiration in South Africa. But there is less punk ethos here, and a little less of a derivative quality, with more composure and storytelling skills added to the mix.
Rob Cimitile of the duo explains, "Lyrically the song is based on a Chinese fable that goes by several names – I know it as "Good Luck, Bad Luck." The premise can be boiled down to not knowing if anything has good or bad meaning in your life. In our version, a woman named Lily has a bout of seemingly good and bad life events that happen to her. While the people around her view these at face value, Lily accepts that there is no way of knowing if these events are negative or positive. Musically, the song represents a culminating moment for us in terms of genre-blending. There are elements of Brazilian bateria, Frankie Valli inspired barber shop quartet vocals, folk guitar (acoustic), Zimbabwean roots music (electric guitar riff). In the studio, it ended up having more tracks than any other song because of the varied instrumentation."
The band members are the kind who go straight to the source and think long and hard about the best musical avenues to communicate their heady ideas. Builder of the House's new album, Ornaments, comes out July 14th via sonaBLAST! Records.
Official Site
Facebook
Twitter
Instagram
YouTube
comments powered by