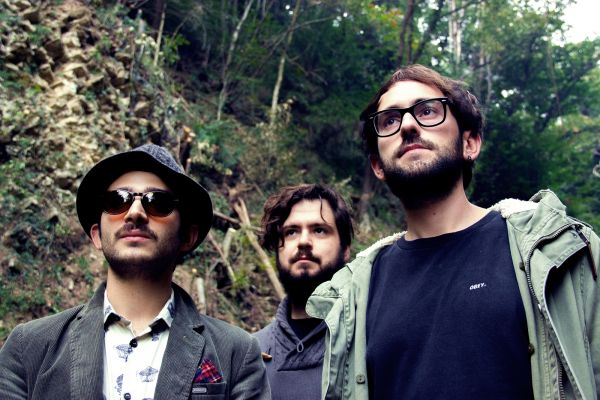 28 March 2017
Two Hicks One Cityman; Photo Credit: Barbara Zilli
Today we venture all the way over to Italy to encounter the three-piece Two Hicks One Cityman It's not clear which one of them is the Cityman and who the Two Hicks are, but the three band members are Giorgio, Francesco, and Alessandro.
Their music can be safely described as "blues-infused space rock" as can be quickly found out by listening to their track "Lonely Times". This one is hard to pin down in terms of 'sounds like' because they draw in so many elements from other bands – Bits of Led Zeppelin can be gleaned, as well as Coldplay's melodicism, Oasis, and traces of Radiohead.
This track is lifted from the band's forthcoming debut album Lonely Nights, a collection of songs about loneliness and a journey inside the human mind, the writers trying to understand whether some human conditions are actually good for us in terms of becoming better people. The band members have stated that this album is an exploration for them to confirm their intentions regarding who they want to be.
Two Hicks One City Man enjoy performing live, having played more than 30 gigs in one year. This is one of the reasons the band wanted to present listeners with an album that would allow them to understand what they represent and to join them on their own personal sonic journey.
Two Hicks One Cityman will be releasing Lonely Nights on May 15 with support from Tri Tubba in Italy.
TRACKLIST
1- Almost Had It All
2- Lonely Times
3- Interlude
4- Farewell to the Lone
5- Easily
6- So Lonely
7- Low Man
Why not also enjoy a couple other offerings from Two Hicks One Cityman? The first is from their previous album Tinder Tapes and the second was captured live at the Arts Café in Naples, Italy.
TWO HICKS ONE CITYMAN
Facebook
SoundCloud
Bandcamp
YouTube
comments powered by