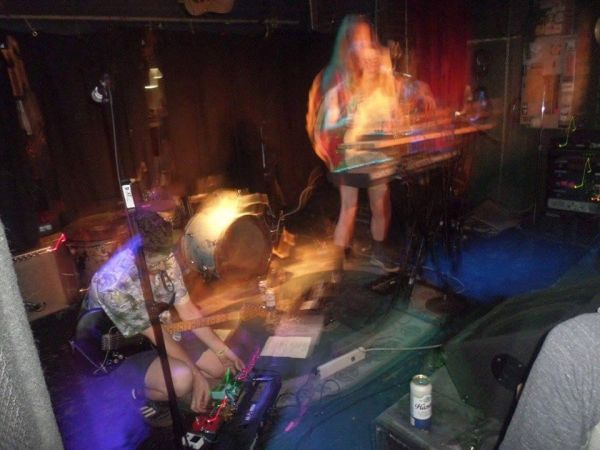 20 December 2017
Kudzu; Photo Credit: Shay Rainy
Missouri-based post-punk synth-wave duo Kudzu have announced they will be releasing a new album. Ironically dubbed Defeated, a quick listen to this album gives every indication that they actually have a winner of an album on their hands here. Slated for release in early 2018 via Push & Pull Records, this album is a reaction to mounting disappointments and frustrations with increasingly frustrating and disappointing realities.
The Big Takeover the pleasure of presenting the premiere of the album's lead single "No Backbone", an infectious offering that triggers awesome associations with the best of '80s underground goth-rock, darkwave, and synthpop, but with some very cool sonic curveballs thrown in along the way. Early Ministry comes to mind and bands like Section 25, A Certain Ratio, and Cabaret Voltaire, along with newer bands like Schonwald, The KVB, and even stylistic glimpses of Be Forest.
This is certainly one of the band's gems, but with nine tracks on this album, there is so much more here to listen to and the band has no qualms about genre-bending considering that this long-play mixes synth pop with psychedelic underpinnings, post-punk with Mew Wave, industrial, with punk rock. Elsewhere on the album, we also hear the vocals and melody and stylings on par with John Lydon of Sex Pistols and PiL fame. The great thing is that they pull it all off beautifully.
Kudzu is Seth Goodwin (vocals, synth, and drum programming) and Mark Gillenwaters (vocals and guitar). Influenced by bands such as Tears For Fears, The Cure, Spectrum, Guided by Voices, Sympathy Nervous, and This Heat, they've managed to concoct a sound original from any of them.
"A lot of these songs come from a place of disenchantment with punk and "diy" scenes I've dedicated too much time to and the resulting dissociation as I've continued to have involvement in those scenes," says Seth Goodwin. "A documentation of a transitional period that I'm sure a lot of people feel as they start to feel parts of them age out from this type of lifestyle but don't know how to do anything else."
Defeated was recorded by Adam Schoeller and Jonathan James at No Coast Recording, and mixed by the latter, with Shay Rainey creating the cover artwork.
"While we were working on new material, I drew inspiration from the petty frustrations of everyday life and the stark reality of life in the Ozarks. i feel like there is a type of alienation that you can harbor in a place like this that lends it's self to bleak music. I like to treat lyrics as more emotional than literal so some lyrics might not make sense but still convey the emotion I'm trying to present," says Mark Gillenwaters.
Defeated will be released on cassette and digitally via Push & Pull Records. The first batch is limited to just 50 copies on high quality chrome cassette, and can already be pre-ordered via Kudzu's Bandcamp.
We also think you will enjoy another totally juxtaposing track from their forthcoming album, called "Some Cops", offering up a machine-gun whirlwind of industrial rock.
KUDZU
Facebook
Bandcamp
Instagram
Twitter
SoundCloud
comments powered by