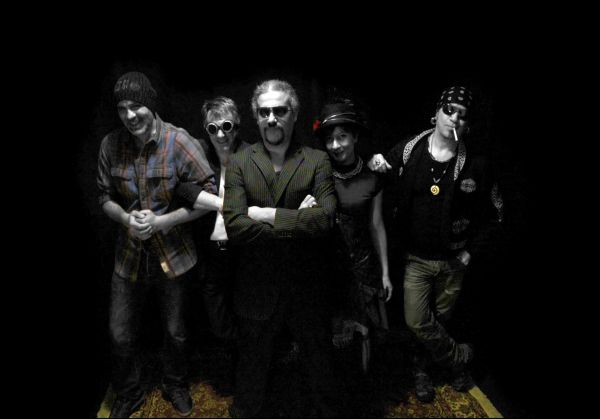 20 February 2018
Moonshine Booze; Photo Credit: Lama Donna
It seems like it is a tendency that either bands in Italy are becoming more numerous or that they are better at getting the word out about their music than previously. Or maybe it's just that there are more people than ever before with their ear to the ground, so to speak, in terms of new music explorations. If you are a fan of gritty ethno-punk with an odd country vibe (yes, it can be done), you may be surprised that today's premiere comes from Italy once again.
Moonshine Booze will be releasing their debut 14-track debut soon, entitled Desert Road, via Seahorse Recordings. But ahead of that, The Big Takeover has the pleasure to premiere their track "No Mas".
While this trio of Andrea Manila (vocals), Emiliano Zapata (guitar), and Fabio Manchos (drums) formed in 2014, this is the first original music they have released. Influenced by The Who, Johnny Cash, The Rolling Stones, Tom Waits, The Kinks, and ZZ Top, the band mixes and mashes multiple genres, including desert rock, alternative, and blues-infused country to create a sound unlike any produced in their native country.
"No Mas" sounds very different from the album's lead track "The Place", the latter being somewhat alt-gypsy-desert rock. "No Mas", on the other hand, is shot through with bluegrass and has very much a 'hoedown' feel to it amid what is high-tempo alternative rodeo rock. It takes great originality to come up with such a clever mix of genres, performed as such in a tasteful manner.
The band initially played live quite a lot and intended to focus on performing covers from Johnny Cash to Robert Johnson, Muddy Waters, Little Walter, and J.B. Leinor, but they eventually realized that they had their own distinct style and eventually began to compose their own music, having locked themselves in for three months. During that time, they wrote and recorded enough material for their debut album Desert Road.
Desert Road will be available across digital stores and streaming platforms on March 16, but can already be pre-ordered via Seahorse Recordings' Bandcamp.
ALBUM CREDITS
Andrea Manila (vocals and acoustic guitars)
Emiliano Zapata (guitars and backing vocals)
Fabio Manchos (drums & percussion)
Marilu (bass)
Lorenzo Di Antonio (guitars and backing vocals)
MOONSHINE BOOZE
Facebook
Seahorse Recordings Bandcamp
YouTube
SoundCloud
Instagram
iTunes
Spotify
comments powered by