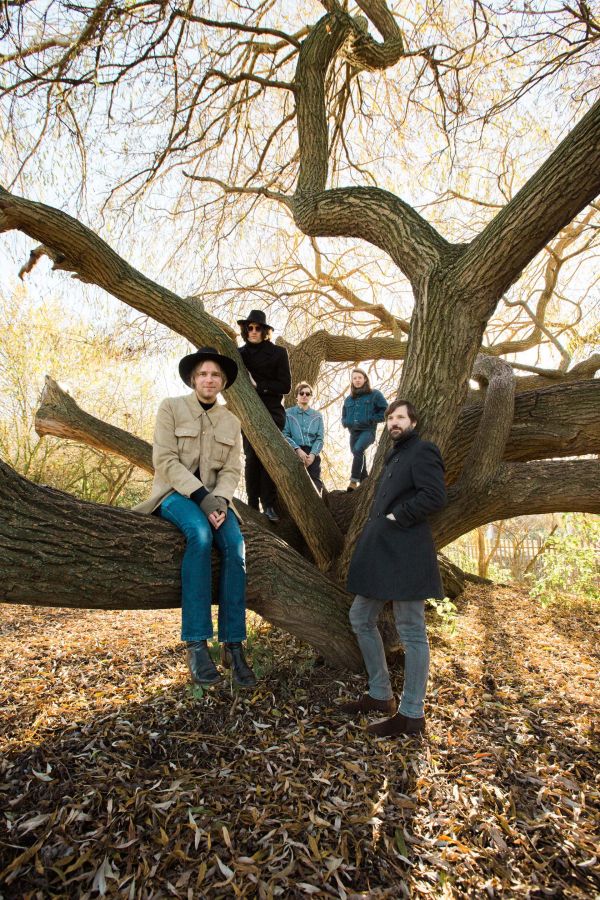 17 January 2018
The Hanging Stars; Photo Credit: Michael Wood
"On A Sweet Summer's Day" is the new single to be taken from UK-based cosmic folk outfit The Hanging Stars' forthcoming album Songs For Somewhere Else, due out on February 9th. A laconic, hazy joy of a track, the album opener offers gorgeous four-part-harmonies and luscious twelve-string guitars. An early glimpse of sun-drenched days, the music washes over like a cool breeze, while the lyrics hint at a moment of reflection filled with pensive melancholia.
The song is a joint writing effort between Samuel Ferman and Richard Olson, with Olson writing the words while on a trip to Toronto. Channeling the sounds of The Byrds, Big Star, and The Flying Burrito Brothers, as well as hints of Mojave 3 and The Allah Las, they mainline the dying embers of the early '70s psychedelic folk and cosmic country scenes.
In addition to songwriter, singer, and guitarist Richard Olson (The See See, Eighteenth Day of May) and Samuel Ferman on bass, The Hanging Stars is comprised of Paulie Cobra on drums, Patrick Ralla (Alan Tyler Show, Edwyn Collins) on guitars, keys and vocals, and Joe Harvey-Whyte (pedal steel, dobro).
Recording was conducted at the legendary Bark Studios in Walthamstow with Brian O'Shaughnessey (The Clientele, Primal Scream, My Bloody Valentine) at the helm. They had a collective attitude to performances on the album, with additional input from US friends Collin Hegna (Federale, Brian Jonestown Massacre), Miranda Lee Richards (on the emotive duet "How I Got This Way"), and Christof Certik (Brian Jonestown Massacre, Winter Flowers), as well as Alison Cotton on viola (Left Outsides, Eighteenth Day Of May), Luke Barlow (Nought) on flute, and Thomas Wake on clarinet.
Songs For Somewhere Else follows up The Hanging Stars' 2016 debut LP Over The Silvery Lake. The band ushers in the next phase of their musical development, with Olson's astute lyrical observations and honeyed vocals at the fore, backed by the band's creative musical arrangements. These aren't just songs for somewhere else, they are songs for right here and right now. The perfect timeless antidote to these troubling times.
comments powered by