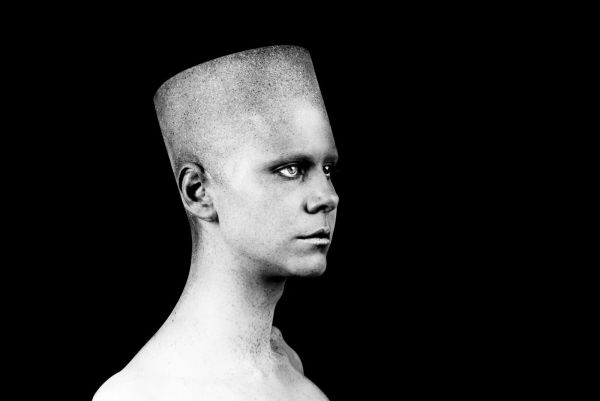 4 April 2017
JPTR; Photo Credit: JPTR
After a string of singles (and videos) which appeared on every full moon of every month of 2016, the Swiss avant-pop duo known as JPTR is finally releasing its self-titled debut. Which is odd, because their press photos only feature one person: JPTR, a morph between KIU (vocals and drums) and IKARU (drums and vocals).
JPTR drops April 7th via Mouthwatering Records.
Unlike with most bands, where the visual component is merely an add on, in the case of JPTR, it's an inseparable part of the group's operation and often the key to their music. Which is proba-bly why they refer to themselves as an art collective that fuses music and visual art and operates like a production house.
IO, the unofficial 3rd member of the group, doesn't really make any music. He is, however, responsible for their visual concept, co-writing the lyrics and bringing the songs to life through videos and visual art . And the three of them are in a constant, intense creative dialogue/negotiation regarding the parameters of this thing called JPTR, and all of its operations and expressions.
JPTR's music is raw and riveting, with arrangements that feature only vocals and drums. All the other sounds heard are just a factor of a very skillful use of sound design. The variety and the dynamic and stylistic range of their music covers everything from the edgier end of the pop spectrum all the way through a militant, avant-noise type of indie electronica. Of course, this is not really electronica, as the music is almost entirely acoustic, but it's played in such a way that it creates the illusion of something synthesized and made through studio craft alone.
The topic range is broad, but unified by a socially and politically conscious angle, from gender equality to the gender role reversal, sensory overload via the Internet, the European refugee crisis (Europa), and more. The wordplay is sharp, poignant, and playful, with hidden meanings and multiple references to history and science.
JPTR creates a vibrant and catchy sound with minimal instrumentation on "Polyamorhythm" as it bursts forth with dynamic, marching drum rhythms and energetic lead and background vocals.
Official Site
Facebook
YouTube
comments powered by