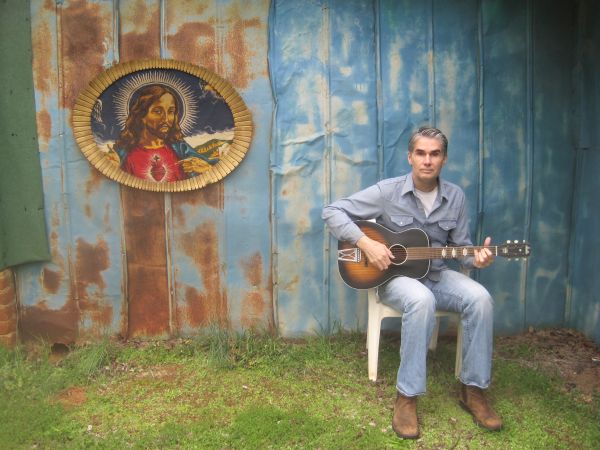 18 December 2017
Jim White; Photo courtesy of Jim White
Veteran Southern Gothic/experimental folk singer-songwriter Jim White returns with a genre-blending Americana hybrid album on February 9th via White's own XX label. The LP, bizarrely titled Waffles, Triangles & Jesus, is White's sixth solo studio album and a mind-bending joy ride of sonic influences featuring a bevy of Athens, Georgia roots musicians, plus West Coast indie darlings Dead Rock West and rock 'n' roll maverick Holly Golightly.
When White not releasing his own critically acclaimed solo albums, he splits time producing records for other songwriters, exhibiting his visual art in galleries and museums across the U.S. and Europe, and publishing award-winning fiction.
Prior to Waffles, Triangles & Jesus, White released five eclectic, uncategorizable albums including the acclaimed Wrong Eyed Jesus, plus six even-stranger side projects. Numerous songs from his back catalog have appeared both in film and television, including his Primus -esque "Word-Mule" in Breaking Bad and more recently his cautionary rocker "Crash Into the Sun" appearing in Ray McKinnon's highly praised Sundance Channel series Rectify.
A consummate collaborator, White, who plays multiple instruments on the record and also produced it, deftly employs a large cast of disparate souls on Waffles, Triangles, & Jesus, leaning heavily on arch-traditionalist bluegrass outfit Hog Eyed Man, featuring fiddle champion Jason Cade, who doubles on clawhammer banjo as well. White's usual suspects make strategic appearances: Rob McMaken on multiple stringed instruments, Marlon Patton on drums and bass, Pat Hargon doing star turns on guitar, with newcomer trumpet wizard Josh Klein showing fine improvisational form on several of the more upbeat tracks.
Center-point on the record finds White out on a sonic ledge with the jazz-tinged heart stopper "Prisoner's Dilemma." Harking back to White's work on No Such Place, this cinematic tale of a reprobate Death Row prisoner casually confessing his crimes to a fledgling prison evangelist is reminiscent of a Jim Thompson novel, only accompanied by a wickedly syncopated jazz core that's offset by a bevy of sonic bangles in the forms of vibes, hooting whistles, muted trumpet solos, and more.
Digging into "Prisoner's Dilemma", White explains its backstory, revealing, "Back in the '70s when I was mired in the Assemblies of God End Times mindset I was always so jealous of the people in the church who could go out on the street and win random souls to the Lord. Witnessing, they called it, which was code for selling someone a product called Jesus Christ. The best of the best Jesus salesmen, the ones who could go to an Atheist convention and win over converts, would often be invited to join the prison ministries, which in North Florida meant an inevitable visit to the dismal halls of Raiford Penitentiary, home to some of the most hardened criminals in the South. This song imagines a meeting between a reprobate Death Row inmate and a prison ministries neophyte."
comments powered by