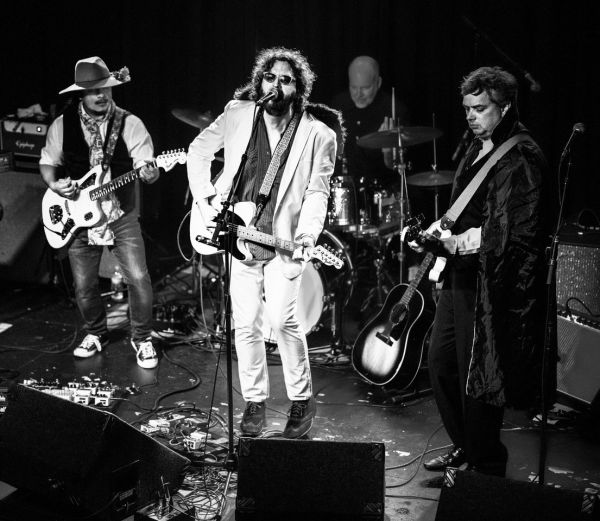 6 February 2018
6 String Drag; Photo Credit: Rodney Boles
North Carolinian Americana pioneers 6 String Drag return with the 20th anniversary an expanded edition reissue of their Steve Earle -produced, 1997 classic album High Hat (and an ambitious new album titled Top Of The World) and the Big Takeover is premiering the country-tinged twanger "Red" today.
Kenny Roby (vocalist, songwriter, guitarist), gives the backstory to the song, explaining, "I am guessing around early 1995 I had this melody humming and cycling around in my head and knew it was familiar but not exactly what it was referencing. Then it dawned on me that I might have sorta ripped off "Old Man River". Oops. We were also listening to a bunch of 20s-40s early blues and jazz and minstrel kind of stuff from King Oliver to Emmett Miller so we wanted that cool old timey roll and clop to it. I always loved that kind of groove. The Kinks were good at that doing those rag type of tunes and then adding the angst of a rock 'n' roll band trying to take it easy. So maybe we were ripping the Kinks too. Whatever it takes, man."
When 6 String Drag first appeared on the scene in 1993, the Americana scene was still in its infancy. As one of the earliest alt-country bands of the era — a point in time at which Uncle Tupelo was winding down, Whiskeytown hadn't yet formed, and scene bible No Depression was still a couple of years away from launching — the quartet, headed up by Roby and bassist Rob Keller, played a major role in eventually making the term "Americana" part of the musical lexicon.
By the time 6 String Drag was ready to record High Hat in late '96, the alt-country scene was raging, with No Depression-championed artists like Wilco, Son Volt, Whiskeytown, the Bottle Rockets, and the Old 97's all having released key records. 6 String Drag, which Roby and Keller originally formed in Clemson, South Carolina, and was named after a Stanley Brothers song "5 String Drag," already had an eponymous album under its belt and was prepared to step up its game for Earle and Kennedy. Along with drummer Ray Duffey and guitarist Scotty Miller, Roby and Keller served up a set showcasing an already-impressive range of songwriting and arranging skills.
High Hat has clearly stood the test of time, with highlights then and now including straight-up alt-country rock ("Bottle of the Blues," "Ghost"), Bakersfield-meets-gospel rock ("Top of the Mountain"), twangy melodic anthemism that wouldn't be out of place on an Earle or Springsteen album ("Elaine," Cold Steel Brace"), and even modified Dixieland ("Over and Over").
Looking back upon the nascent Americana scene that spawned 6 String Drag, Roby admits he's not altogether certain where his band fits in now — and he's not particularly worried about it, either."I always thought us and other bands were just roots-leaning rock 'n' roll bands that dipped our feet into some traditional music — in the way that the classic American and British rock bands always did, "_ Roby states. "I know it is kind of a cliché to say, but I think we are just a traditional rock band overall."
6 String Drag's current line-up consists of Roby and Keller, along with guitarist/multi-instrumentalist Luis Rodriguez and drummer Dan Davis. The reissue of High Hat is out now, with Top Of The World to follow on March 9th, both via the Raleigh-based Schoolkids Records.
comments powered by