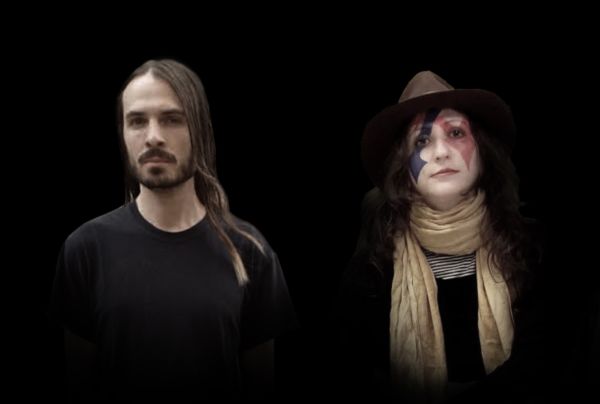 11 April 2017
The Use and Rachel Mason; Photo Credit: Michael Durek
NYC's The Use has once again paired up with Rachel Mason, this time putting his own spin on her track "Sand Dunes". The Big Takeover is pleased to premiere this track lifted from the compilation Alrealon Musique & Bad Alchemy Present: Trace Elements Rachel Mason and Michael Durek's collaborative project began when he played theremin for an experimental play she directed in 2010.
The Use is recognized for his soulful theremin playing and imaginative, moody electronic productions. His music incorporates elements of techno, classical, jazz, hip-hop, electro, industrial, and even psych-pop, making use of custom instruments, recorded samples, and theremin. Recent coverage includes Brooklyn Vegan, Impose, Big Takeover Magazine, Huffington Post, Tiny Mix Tapes, and the "Symantix" premiere in The Wire Magazine.
He has toured through Europe, the USA, and Canada, and his production and playing features on over 40 albums. The Use has produced a Cibo Matto official remix and, among others, has collaborated with Danny Chavis of The Veldt He is also in Pas Musique and manages the Alrealon Musique label.
BrooklynVegan describes a previous tune by The Use as, "Glitchy and soaring, it's a haunting track (shades of The Knife) that becomes even more so when you learn its backstory".
Most recently, The Use's experimental electronica also found a commercial use with Vogue Magazine choosing his song "Hello Everybody" to soundtrack a Louis Vuitton advertisement featuring Selena Gomez.
As for Rachel Mason, who has long been an activist on the NYC art scene, but recently returned to her hometown of Los Angeles, she is a cross-over performance artist, filmmaker and, musician. Touted as "one of the most creative forces in the world" by Impose Magazine, her wide-ranging portfolio of mixed media work has been instigating fantasy and harsh realities through scripts, sculpture, rock operas, live performances, and compositions for over a decade.
Mason is best known in music circles for delivering fantastical narratives that interweave musical, theatrical, and narrative elements into unexpected musical journeys. Often performing in multiple guises in a single show, with elaborate handmade costumes and headdresses, many of her works have been presented at top art institutions in the U.S. and abroad. Her latest Das Ram LP was released by LA-based Cleopatra Records in late 2016.
Tonight (April 11th), The Use and Rachel Mason perform at WFMU's Monty Hall supporting celebrated band Xiu Xiu. This is an event especially for people who love supreme experimentation and celebrate art's merger with sound. There, they will be joined by multi-instrumentalist composer Brian Lawlor on bass and Ramsey Jones (GZA, Wu-Tang, Funkface) on drums.
We also invite you to enjoy the track recently produced through this particular collaboration – "On My Deathbed", based on a poem by 许立志 (Xu Lizhi), the FoxConn worker who jumped to his death, leaving behind an archive of poetry, preserved by friends at Libcom
RACHEL MASON
Website
Facebook
Bandcamp
Twitter
YouTube
Soundcloud
Instagram
THE USE
Official Site
Facebook
Bandcamp
SoundCloud
Twitter
Instagram
comments powered by