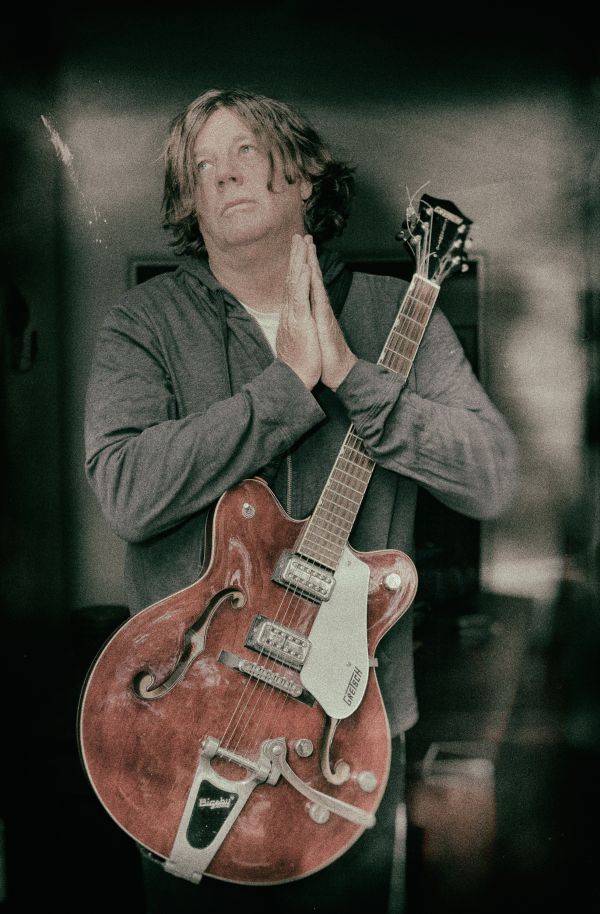 10 April 2017
John Andrew Fredrick of the black watch; Photo Credit: Brendan Holmes
"'Satellite' is a song that just never had the right feel, mostly having to do with the drums," John Andrew Fredrick of the black watch explains about the closing track from the band's upcoming album (its 15th!), The Gospel According To John, out April 21st.
"When we tried it for the one thousand and twelfth time, I thought it would be nice if some former band members came in and played on it. So in came Tim Boland on guitar and Roger Butchers on bass. That's me screaming, of course, in my screamy mode."
The song moves with a restless, continuously driving forward motion, like a train chugging down the track. Grimy and energetic guitar riffs ride the sonic railway, underpinned by a pushing bass line and propulsive drumming and overlaid by Fredrick's deeper, passionate and determined vocal tone. Clean guitar notes and extended keyboard lines provide a smoother counterpoint to the gritty juggernaut that intensifies slowly, but surely by song's end.
How does one definitively describe John Andrew Fredrick, this guy that has been making music, writing books, professionally professing about both (that's what professors do?), and generally being a ceaseless creative entity forever?
Despite all of Fredrick's quixotic threats to quit releasing music and concentrate on his other careers and hobbies (Dr. Fredrick holds a Ph.D, plays tennis or ping-pong five days a week, and paints), the guitar-driven songs just keep coming.
"I keep writing because I am so bored with people – and so in love with a handful of them," Fredrick confesses. Perhaps this state is a symptom of 25 years of Los Angeles-living? "My kid who lives in New York really believes that Los Angeles is toxic, and conducive to advanced misanthropy."
Nevertheless, songs and riffs and lyrics keep wandering into Fredrick's head as he's traversing the city's infamous traffic to California Lutheran University, forty-five miles north of Los Angeles, where he lectures in the English department. The Gospel According To John follows up 2015's Highs & Lows and was recorded over the course of eleven months with Rob Campanella of The Brian Jonestown Massacre producing.
On the heels of the new album, Fredrick will follow-up four well-received novels with the release of a non-fiction title about Wes Anderson, who Fredrick previously taught a course on at The University of Southern California. Fucking Innocent: The Early Films of Wes Anderson will be released on June 13th, 2017.
"This book makes film criticism fun," Fredrick says. "It's very 'Lester Bangs goes to the movies.'"
Official Site
Facebook
Twitter
YouTube