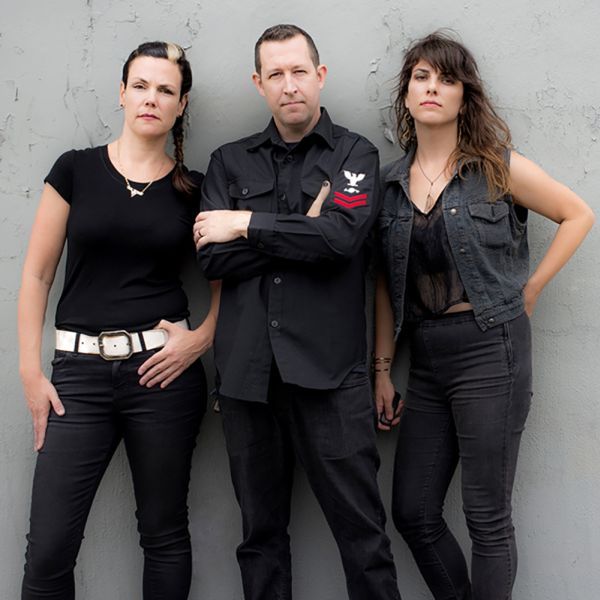 2 August 2017
Castle Black; Photo Credit: Leigh Celent
Castle Black is a Brooklyn-based rock trio, bringing a powerful and thunderous sound, full of hard-hitting jams that never sacrifice the hook. Described as drawing from the punk, post-punk, grunge, alternative, and New Wave genres, Castle Black refuses to be pinned down to one style.
The band will be releasing a new EP, titled Trapped Under All You Know, on August 18th, which will be accompanied by several supporting music videos. Debut EP Find You There dropped in 2015 and was followed up by second EP Losing Forever in 2016.
Each song on Trapped Under All You Know careens through an almost stream of consciousness depiction of life stories, social anthems, and raw emotions. Gritty female vocals, delicate back-up adornments, roaring drums, canny bass, and guitar-forward hooks collide, staying in your head for days on end.
Castle Black has played numerous gigs throughout the eastern half of the US, including notable music fests like Brooklyn's Northside Festival, NJ Shore Festival, and Staten Island's PrideFest. The band was selected through an audition process as one of a handful of female-fronted groups for Summer on the Hudson's Make Some Noise Festival in 2017, which highlighted women musicians making an impact on the NYC music scene.
The act has had extensive radio airplay on stations from around the world (Strawberry Tongue Radio, Banks Radio Australia, Vulcan Sound Radio, Rock Radio UK, Radio Free Brooklyn, and many others) and has opened for prestigious outfits, including Richard Lloyd (Television), Big D and the Kids Table, and POD.
The Big Takeover is excited to premiere the dynamically rousing and gritty number "Seeing In Blue" off Castle Black's forthcoming EP. As the jagged edge guitar grinds, the bass line holds down the low end, and the drums pummel a kinetic tattoo, Leigh Celent and Lisa Low shout out the vivid lyrics.
Celent explains the meaning behind the song, stating, ""Seeing in Blue" is the first track off of our upcoming EP Trapped Under All You Know, and it sets the themes and foundation for the whole album. To me, the song is pure fantasy; it's about something completely happening in one's head, a vision of what it would be like to be somehow different than how one is, and the how the knowledge of that fantasy is torturous in ways."
She also give details about the creation of "Seeing In Blue", revealing, "The song has one of our signature tempo shifts that we tend to gravitate towards. I think the first few times we played the song as a band, with all of the parts in place, we were playing it the same tempo all the way through. It was missing something! Then it just morphed into that natural slow down you hear at the end, and that part really emphasizes all of the main parts of the song, all kind of magnified in that slow-motion moment."
Official Site
Facebook
Twitter
Instagram