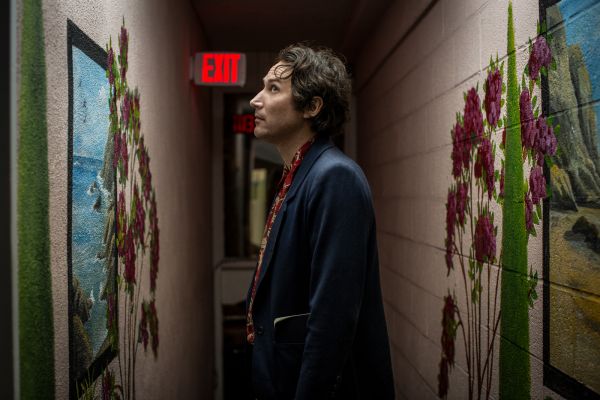 29 March 2018
Matt Costa; Photo Credit: Pamela Littky
Folk/pop singer-songwriter Matt Costa will be releasing his latest album, Santa Rosa Fangs, on May 18th via Dangerbird Records. The LP is a stirring and cinematic look and listen into the sometimes autobiographical, sometimes fictional, journey of the venerable California musician through the tangled groves and grapevines of his home state.
Throughout the album's twelve songs, Costa illuminates what he has learned and how he has grown in the past 15 years of his career. His music has taken him around the world, allowing him to work with diverse, respected artists and to connect with people everywhere—from his albums released on Brushfire Records to recording with Belle and Sebastian in Glasgow, to penning film scores and releasing a variety of genre-bending EPs, and to finally coming home to Los Angeles's Dangerbird Records for his first new proper full-length release in nearly five years.
A rebirth in a sense, through Costa's keen pop sensibility, studious songwriting, technical mastery, and a modern-meets-vintage sound bursting with bite. He began the recording of Santa Rosa Fangs over a year and a half ago, though some songs here predate that mark. Realizing he sought a collection of dyed-in-the-wool songs rather than sonic experiments, in July of 2017 he and producers Peter Matthew Bauer (The Walkmen) and Nick Stumpf (French Kicks) entered a studio to begin work.
Costa began noticing a theme in the new songs as he wrote them: an unconscious embodiment of the surroundings in which he himself had grown up. According to Costa, the titular teeth refer to that inescapable feeling of a romantic, tragic, and eternal bite that certain places and events will always hold on us. "I've interwoven my own stories into a fictional idea of what 'Santa Rosa Fangs' is, from my own time spent living in Northern and Southern California and years driving up and down the coast, seeing the landscape and where life can pull you within one state," Costa says. "It is all these things—the 'bite that is eternal, the smile in the neon'—and it has fangs. … The beauty of love and loss doesn't have a date on it; it's timeless."
The album follows three siblings as they search for love and meaning in their lives, which are ultimately cut short by the passing of both brothers in unrelated accidents. Sharon, left battling with her own mortality and forced to see through a shattered lens, becomes the story's grieving, guarded hero and, as Costa says, is "a little bit me, and a little bit everyone."
The Big Takeover is pleased to premiere the bittersweet, but up-tempo retro-rocker "Sharon" that lyrically delves into the character Sharon's psyche while rolling along with jangling guitar strum, wavering organ notes, shaken percussion, a pushing drum beat, and Costa's plaintive exclamations.