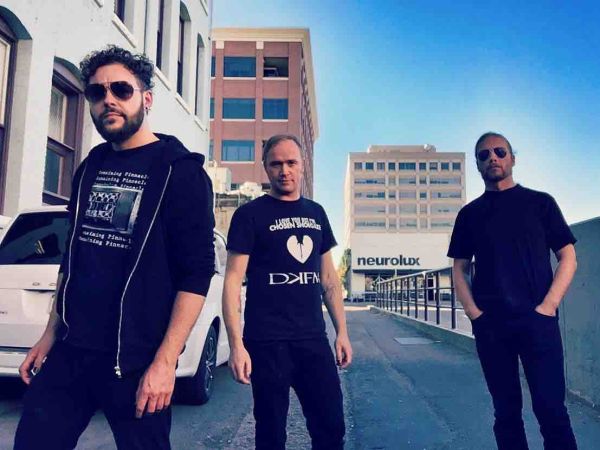 11 April 2017
The Foreign Resort; Photo Credit: Scott Vezina
For those with the nostalgic musical mindset that locked you on bands such as Joy Division, The Cure, Tones on Tail, The Damned, Killing Joke, and New Order, imagine combining these bands with a healthy dose of Antidotes -era Foals … There you have it – The Foreign Resort, hailing from Denmark and back with a few new single releases.
The first is "Skyline/Decay", which appears on the Alternative (F)Acts compilation album in support of civil liberties and women's health. The comp is put out by DKFM, California's epic shoegaze station, All proceeds from this album shall be split evenly between the American Civil Liberties Union and Planned Parenthood.
The Big Takeover presents this astoundingly beautiful track today, where the soundscape flows like a plot to a great sonic story, bursting with massive melody, soaring shoegaze guitars, and penetrating vocals on par with The Cure.
The Foreign Resort will also release their next single, "She is Lost", on April 19. This will be the first song from the band's next full length album, marking a return to the analogue sound of New Frontiers, only this time the sound is more minimalistic, but with plenty of electronics and spacious drums to create a dreamy, yet upbeat soundscape full of contrast. The release is timed with a 10-day Canadian tour and a performance in Toronto at the prestigious Canadian Music Week
It's no wonder that Louder Than War claimed The Foreign Resort are "…the most exciting band to come out of Denmark since The Raveonettes". Led by singer and songwriter Mikkel Borbjerg Jakobsen, the band combines the shadowy mysticism of The Cure's Pornography era with a driving production aesthetic akin to LCD Soundsystem. Intricate reverb-enveloped guitar lines glide over Steffan Petersen's Motorik bass and Morten Hansen's powerful drumming, all while Jakobsen's taut and sincere vocal delivery demands your attention.
Having toured with The Raveonettes, A Place to Bury Strangers, and Swervedriver, The Foreign Resort has also shared bills with bands like DIIV, The Soft Moon, The KVB, Slowdive, Minor Victories, and, most recently, Cold Cave. They've also toured the USA relentlessly, addicted to the allure of America's lost highways. Since 2010, the band has been rigorous in playing more than 400 shows across North America and Europe with performances at several festivals including SXSW, Iceland Airwaves, Wave Gotik Treffen in Germany, and now also Canadian Music Week 2017.
This three-piece juggernaut is about to invade North America again – this time they head north of the border (yes, to Canada, for those who never passed Geography 101) for a 10-day whirlwind tour through Ontario and Quebec.
CANADIAN TOUR DATES
APRIL 20 Toronto – Nightowl Club (Canadian Music Week)
APRIL 21 Ottawa – Bar Robo with ONFIILM & The City Gates
APRIL 22 TBA
APRIL 23 Oshawa – The Atria with L'Autre Dame & Cyphier
APRIL 24 Peterborough – The Spill with Severed Feathers
APRIL 25 Montreal – Brasserie Beaubien with The City Gates & T R A C E S
APRIL 26 Guelph – Silence with Glass Apple Bonzai & Slutmother
APRIL 27 Windsor – Phog Lounge with Ethrelite & Foxhart Fishman
APRIL 28 London – The 488 Open Jam
APRIL 29 Sudbury – The Asylum
OTHER TOUR DATES
MAY 18 Aarhus, Denmark – Sway (with Dead Leaf Echo)
MAY 19 Odense, Denmark – Studenterhuset (with Dead Leaf Echo)
MAY 20 Copenhagen, Denmark – BB18 (with Dead Leaf Echo)
MAY 24 Leipzig, Germany – Bandhaus (with Dead Leaf Echo)
SEPT 26 Lübeck, Germany – Riders Cafe
SEPT 28 Sønderborg, Denmark – Black Spot
SEPT 29 Cologne, Germany – Blue Shell
SEPT 30 Prague, Czech Republic – TBC
NOV 3 Berlin, Germany – Bi Nuu (with She Past Away)
NOV 4 Lucerne, Switzerland – Sedel (with Rev Rev Rev)
We also invite you to enjoy the other single they will be releasing and encourage you to take up the challenge of creating the band's next video for "She is Lost".
THE FOREIGN RESORT
Official Site
Facebook
Twitter
YouTube
SoundCloud
Bandcamp
Instagram
comments powered by