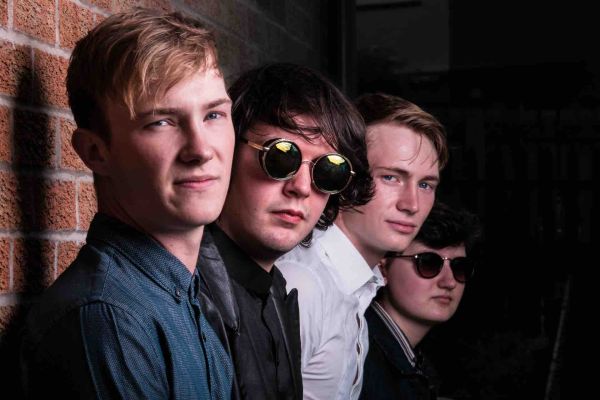 4 October 2017
The Decrees; Photo Credit: Lewis Milne Photography
Today The Big Takeover has the pleasure of premiering the double A-side single "Sons of Rage" / "West Sierra" from Scotland's The Decrees and it feels really good – not only because of the great romanticism associated with that country and a whole slew of really awesome artists hailing from this country (Buzzcocks, Teenage Fanclub, Primal Scream, Trash Can Sinatras, Travis, Cocteau Twins, to name a select few), but also because the collective we are featuring today are good, they're in their prime, and they are loaded with drive.
Hailing from Fife, Scotland, The Decrees are a melodic pop-punk band with a gift for weaving influences and genres in their songs while still coming across as fresh and non-offensively in-your-face. Is that even possible? Yes it is and band members Lewis Akers (vocalist),Caitlin Petrie (bassist), Callum Bell (guitarist), and Kieran Bell (drummer) show us how it's done.
It's no wonder that BOTH tracks here – "Sons of Rage" and "West Sierra" are firecrackers as far as tunes go. The first of these was recorded by renowned producer Michael Brennan, Jr. of The Substation (Mogwai,Snow Patrol, Super Furry Animals, Loop, Primal Scream) and mastered by Pete Maher (U2, The Pixies, Jack White, The Rolling Stones, Lana Del Rey).
Since forming in 2016, The Decrees have become well-known on the local circuit and now they are on US shores to make some waves… Finding a sweet spot between pop-punk and fire-energized indie rock, you can nearly picture them giving you the finger one second and then inviting you into the mosh pit with them the next. And you'll zealously concede. With threads similar to Jimmy Eat World, Alkaline Trio, and Blink 182, they are somewhat more lovable to fans of All Time Low and Green Day.
Earlier this year, The Decrees released their debut four-track EP Screams From Suburbia, offering a musical account of the everyday experiences of the monotony of modernity. This release blends full-throttle rock music with catchy choruses and beats with a golden thread of Scottish melodicism (akin to country-mates Big Country) appearing from time to time.
"Sons of Rage" was one of the first songs the band wrote after forming. "Lyrically and musically, this song is a serenade to that something better found over the horizon, way past those neon lights. It's about directing all your energies into chasing something you desire. Something that you are waiting for and hoping it won't pass you by," says guitarist Callum Bell. "It is about those intrepid few in the past who achieved the impossible."
"We like to be explosive. We want to put on a performance, and for us, it's as much theatre as it is music at times," says vocalist Lewis Akers. "We like it when the audience gets up and dances with us as well."
The Decrees' new single will be released on October 27th. It will be made available across all the regular digital sales and streaming platforms, but is already available for pre-order through The Decrees' Bandcamp page.
THE DECREES
Facebook
Soundcloud
Bandcamp
Twitter
Instagram
YouTube
Spotify
iTunes
comments powered by