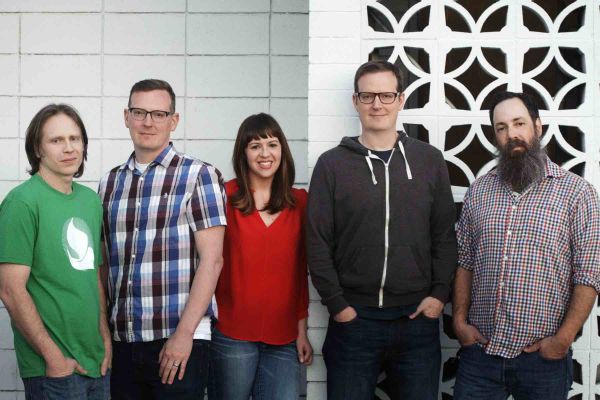 17 April 2018
Soft Science; Photo Credit: Chantel Elder
California dreaming is a contagious thing, especially when you get lost in some of the music associated with this state. While California may not be the dreampop and shoegaze capital of the world, certain movers and shakers are doing well at establishing it as a hub of dream-gaze spirit and activity. Among them are the five-piece Soft Science.
Soft Science rose from the ashes of indie pop band California Oranges prior to releasing their last album in 2008. Soft Science was a natural transition for Katie Haley (Holiday Flyer) and twin brothers Ross and Matt Levine, who had essentially contributed to each other's music projects on an off for over a decade.
With Katie Haley on vocals, Matt Levine on guitar, and Ross Levine on drums and backing vocals, Soft Science were soon joined by bass player Mason DeMusey to create unique dream pop music, inspired by '90s shoegaze and '60s Brit-pop. The band then solidified their sound with the addition of Tony Cale (English Singles) on drums, with Ross moving to keyboards.
Today The Big Takeover has the pleasure of premiering their new double A-side single "Sooner" / "Paris", slated for release on May 4th via Test Pattern Records.
This new offering is potent concoction of several styles, with bits and pieces that are pleasantly reminiscent of certain other artists – it's hard to put your finger on this exactly, however, there are some clear associations. On "Sooner", the synth resonates that same excited synthesizer that made Inspiral Carpets a key part of the Manchester scene. Here, the listener will also find elements of The Judybats, The Go-Go's, and The Primitives. The latter influence remains throughout the B-side "Paris", along wit Lush and Echobelly.
"Sooner" is the second single from the band's forthcoming Maps album, to be released in early June. The B-side is a wistful-blue cover of Northern Picture Library's (NPL) 1994 track "Paris". This single follows up the album's first double-single "Undone" / "I Don't Know Why I Love You".
"Sometimes lyrics are like therapy – "Sooner" is one of those songs", explains Katie Haley. "The lyrics for "Sooner" are an expression of how difficult it is to continue to push yourself in this crazy hectic world we live in. Sometimes, I feel like I lose myself in the barrage of daily news, the push and pull of work, and family obligations – it can all feel overwhelming to the point where I feel lost. Dealing with those feelings was the inspiration for this song."
'Sooner' evokes emotion as the band pulls from influences like Pale Saints and Catherine Wheel. The B-side 'Paris' is a thoughtful, heart-wrenching tribute to NPL, originally recorded for the Sarah Records tribute compilation Popkiss, TBTCI meets Sarah Records, a limited release via The Blog Celebrates Itself Records. This track has since been remastered and, for the first time, is available for wider digital distribution.
Hailing from Northern California's Sacramento Valley, Soft Science fuse melody, sound and texture of '60s pop and '90s shoegaze like molecular gastronomists blend physics and chemistry to transform food. Together this 5-piece band have managed to create their own sweet blend of modern pop music with a sonic edge.
Earlier, in 2011, Soft Science debuted with their High and Lows LP, with Pop Matters noting the band's "potential to become one of the great Left Coast power pop bands." In 2013, the band released the Detour LP, which received notable critical reviews and was ranked #2 among Jack Rabid's Top 40 in issue 74 of The Big Takeover. Soft Science has played live with the likes of The Chills, Literature, and Dead Leaf Echo, and has released a split 7" with The Luxembourg Signal, featuring Soft Science's song "Breaking".

On this new single, as well as their their forthcoming Maps album, Soft Science received support from engineer Eric Stenmen (AWOLNATION, Tokyo Police Club) with mastering at Malibu's Black Bear 11 Studio and mixing of "I Don't Know Why I Love You" at Redbull Studios in Los Angeles.
 

"Sooner" / "Paris" will be released on May 4. Their previous single "Undone" / "I Don't Know Why I Love You" is now available across the online stores and streaming platforms, including the label's own Bandcamp
LYRICS
Sunken and dropping fast
This one will be the last
Harder to even try
I am desensitized
Pictures and memories
Traces left of me
Get up to start again
I am on the edge
Sooner or later
It all comes due
You can't run and hide
No you're never gonna break free now you're under the gun
You can't run and hide
No they're never gonna forget all of the things you've done
Catch the previous single and other recent sonic offerings from Soft Science
Keep up with Soft Science / Test Pattern Records
Facebook
Twitter
Test Pattern Records SoundCloud
TPR Website
TPR Bandcamp
TPR YouTube
comments powered by