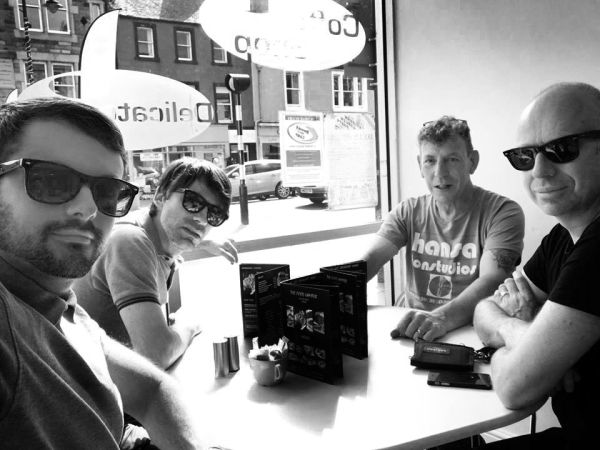 19 June 2018
Klammer – breakfast on tour selfie
We've been witnessing what seems to be quite a fervor surrounding both the punk and the post-punk scene lately. Today The Big Takeover introduces you to Klammer, a band whose music sounds like they originated from the heyday of post-punk, perhaps alongside Siouxsie and The Banshees, The Damned, and The Cure. Yet they are relatively new. Heads-up to lovers of these artists, as well as New Model Army, The Mission, Gang of Four, and The Chameleons, because you are in for a treat.
Hailing from Leeds in Britain's Yorkshire region, we are thrilled to bring you Klammer's new single "Spiral Girl". This follows hot on the trail of the single "Modern God". Both are excellent teasers of their new album You Have Been Processed, which will be released via Under Dogz Records in August.
"Spiral Girl" sounds like the best kickback to The Damned's Phantasmagoria -era that we've heard since that actual album. Right from the outset, this track is darkly dramatic with a distinct Eastern influence woven in the guitar line. Captivating to say the least.
Formed by UK Producer Steve Whitfield (The Cure, The Mission, Terrorvision, Jane Weaver) in 2014, drawing from the members' shared love for all things angular, dark, loud, and melodic. Klammer offer an enticing twist on the post-punk attitude, blending in elements of goth rock, punk rock, and darkwave, all with noir pop sensibilities. Here you'll find plenty of hooks and a shadowy and edgy brooding vibe coursing through their sound.
You Have Been Processed is the band's third album, following up Auslane and Klammer and their debut 7" single "Everything Depends Upon The King". Championed by Steve Lamacq on BBC 6 Music, Klammer's music continues to excite with their dark themes allied to catchy riffs and anthemic choruses.
Klammer have been consolidating their position as one of the country's finest live post-punk acts, having played up and down the country consistently, both as a headline act and in support of other notable artists, including The Skids, The Undertones, Richie Ramone, Penetration, and The Membranes, as well as Rebellion and The Great British Alternative festivals.
Releasing July 13th, "Spiral Girl" will be available across all the regular music shops and streaming platforms, as well as Bandcamp You Have Been Processed will be available on vinyl as well as CD.
CREDITS
Poss – Lead Vocals/Guitar
Steve Whitfield – Guitar/Vocals
Bruno Almeida – Drums
Mike Addy – Bass
Composed by Steve Whitfield & Paul 'Poss' Strickland
TOUR DATES
JUN 30 Huddersfield – Klammer / Hands of Industry Double Header
JUL 14 Saltburn By The Sea – Saltburn Calling Festival
JUL 15 Middlesbrough – Westgarth Social Club
OCT 28 London – London Punk Sessions at The Windmill Brixton
Also check out the first single from that album with its lively video:
Keep up with Klammer
Website
Facebook
Twitter
Bandcamp
SoundCloud
Instagram
YouTube
iTunes
Spotify
comments powered by