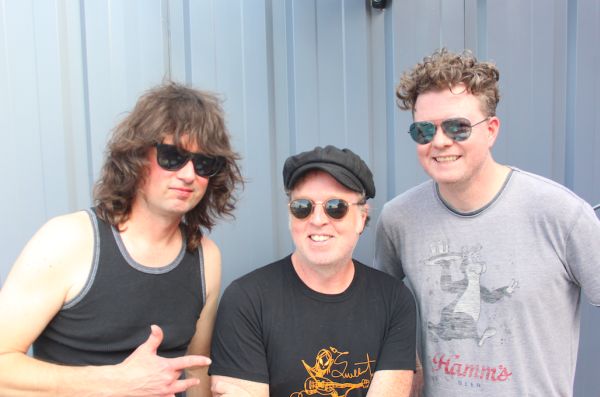 13 June 2018
The Eyebrows – Photo Credit: Daniel Coston
The Eyebrows are a rock band from Charlotte, NC, whose quirky lyrics — coupled with manic-fuzz guitar, beer-soaked bass and a retro backbeat — have brought comparisons to the Talking Heads and Pixies with a touch of The Stranglers and Modern Lovers.
No strangers to the scene, the seasoned veterans have tracked and mixed their debut album, VOLUME, with legendary REM producer Mitch Easter at his Fidelitorium sound studio. The ten tracks have been mastered by Greg Calbi out of Sterling Sound in NYC, and the band plans to release the album themselves on August 31st on vinyl, CD, and digital formats.
Singer/Guitarist Jay Garrigan and drummer Shawn Lynch have played together for over eighteen years in several of Charlotte's most dynamic rock bands, including both Poprocket and Temperance League. Jay and Shawn recruited longtime pal and punk rock aficionado Darrin Gray, also of It's Snakes, to join The Eyebrows in April of this year on bass.
The Big Takeover premieres "Suicide Love", a dreamier cut off the LP that flows with lush, bittersweet regret. Plush, spiraling guitar lines, rich synths, and scintillating cymbals crash wash over Garrigan's drawn out vocal exclamations.
In reference to the song title and lyrics, the band members thoughtfully state, "We wish to be sensitive to recent tragic events with the recent departures of Kate Spade and Anthony Bourdain both taking their lives in the past week. While the word "Suicide" in the title and lyrics leans toward the metaphoric or tragic, star-crossed love often found in new relationships, it in no way is meant to discuss the real tragedy of a loss of a loved one or friend. If you are depressed to the point of despair and suicidal thoughts, please seek the help of friends, family, and professionals. You are important. National Suicide Prevention Hotline: 1-800-273-8255."
Facebook
Instagram
Twitter
Website