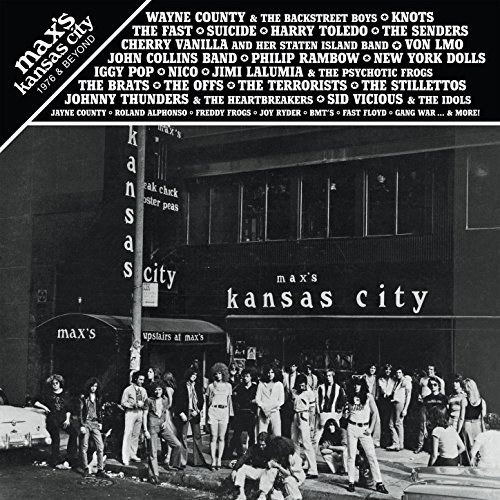 17 April 2017
Max's Kansas City: 1976 & Beyond is an amped-up version of the original pioneering New York City punk club's 1976 groundbreaking compilation LP (under the title Max's Kansas City 1976). This new compilation album is extended with 30 additional songs from the legendary Max's scene, including unreleased tracks, and is packed with extensive historical and biographical notes from scenester Jimi Lalumia and Max's musical director Peter Crowley.
The punk/alternative music retrospective album runs 150 minutes and will bow on CD and vinyl on May 5th via Jungle Records. The club Max's was recently recreated by Martin Scorsese and Mick Jagger for their Vinyl HBO series.
For those not in the know, Max's is the legendary New York City nightclub that became the focal point for the city's hip artistic community from the late 1960s until the early '80s. In its initial period, it was famously often populated by Andy Warhol's Factory crowd, and played host to new artists such as the Velvet Underground, New York Dolls, the Stooges, Bruce Springsteen, and countless others. It became a base for jet-setters, glam rockers, and celebs, until the scene faded and it shut its doors at the end of 1974.
Max's reopened in 1975 under new management, when Peter Crowley was hired as music director. The new young bands he booked helped spawn, in tandem with CBGBs, the New York City punk scene. In 1976 Peter compiled a studio album of acts associated with the club, Max's Kansas City 1976, to help promote the club. It featured the first released recordings of Suicide, The Fast, and Warhol-era veteran Wayne County, whose title-track gave a roll-call of many of the famous acts who'd regularly performed there.
Now the original album is reissued as Max's Kansas City 1976 & Beyond, greatly extended to 40 tracks on a double-CD and a selection of 25 tracks on a double-LP. It includes many previously unreleased tracks and rarities. Peter Crowley compiled the songs for the album and also contributes notes detailing the history of the LP. Writer, musician, and Max's scenester Jimi LaLumia provides historical overview sleeve-notes along with biographies of the artists in a 20-page booklet.
The Big Takeover is honored to premiere the close-out track of the second disc, a rough 'n' raw live version of "Take A Chance", from the legendary Sid Vicious and the band The Idols. Vicious and the band bash through the noise-rock number with abandon in front of the appreciative audience.
Max's Kansas City: 1976 & Beyond
40 Tracks (25 on 2xLP) – Track Listing
Disc 1:
Wayne County and the Backstreet Boys – Max's Kansas City
The Fast – Boys Will Be Boys
Harry Toledo – Knots
Cherry Vanilla and her Staten Island Band – Shake Your Ashes
Wayne County and the Backstreet Boys – Cream In My Jeans
The Fast – Wow Pow Bash Crash
Wayne County and the Backstreet Boys – Flip Your Wig
John Collins Band – The Man In Me
Suicide – Rocket USA
The Fast – Kids Just Wanna Dance
Philip Rambow – Night Out
Suicide – Ghost Rider
New York Dolls – Bad Girl
The Stilettos – Pink Stilettos
The Knots – Heartbreaker
The Senders – 6th Street
Jimi Lalumia & the Psychotic Frogs – Death To Disco
The Brats – First Rock Star on the Moon
The Offs – You Fascinate Me
The Terrorists – Riis Park
Roland Alphonso & the Terrorists – Sax Skandal
Disc 2:
Von LMO – This Is Pop Rock
Fast Floyd & the Famous Firebirds – Frogs Legs
Cellmates – Everybody Wants
Science – Twisco
BMTs – Clothes & Alchohol
Keiran Liscoe & the Attitude – Hello St. Vincents
Freddy Frogs – Days On Earth
Joy Ryder – Johnny Was A Fireman
Sea Monster – Halloween In Detroit
Ruby & the Rednecks – Ruby From The Wrong Side of Town
Joey Kelly Allstars – Amanda
Philippe Marcade – All Quite Wasted
Jayne County – Max's Kansas City (reprise)
Iggy Pop – Rock Action
Nico – Saeta
Gang War – These Boots Are Made For Walking
Johnny Thunders & the Heartbreakers – M.I.A.
Sid Vicious & The Idols – Take A Chance
Max's Kansas City: 1976 & Beyond can be pre-ordered via MVD Shop or on Amazon
comments powered by