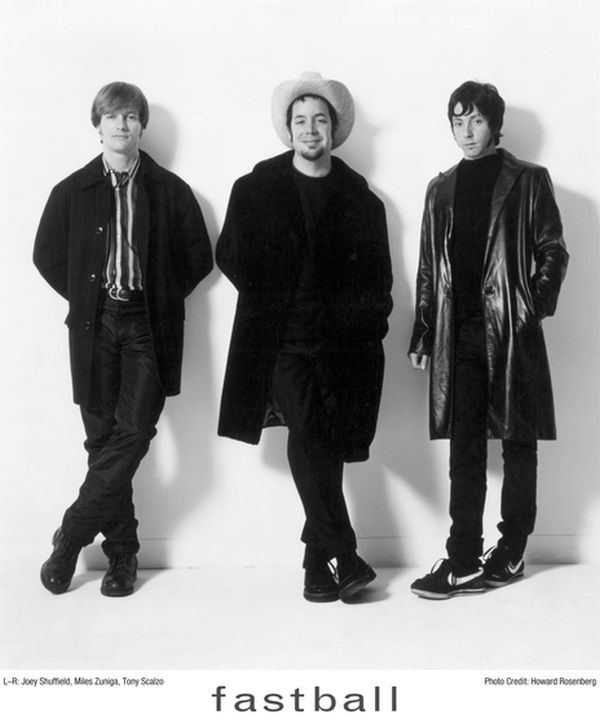 17 September 2018
Fastball – Photo Credit: Howard Rosenberg
Texan rock 'n' roll/power pop stalwarts Fastball are re-releasing their critically acclaimed and mega-successful album All The Pain Money Can Buy as a 20th Anniversary Edition with nine bonus tracks (four of them previously unissued), liner notes by Scott Schinder, and a band interview.
Available on CD and, for the first time ever, vinyl, this remastered version of Fastball's platinum album, which features their massive hit "The Way", will arrive on November 9th via Omnivore Recordings.
When the first single from Fastball's second record was released a few months before the album dropped, it was apparent there would be no sophomore slump. "The Way" exploded at radio, eventually going gold, and propelling All the Pain Money Can Buy to gold status in only three months and platinum another three months later. The release also received two Grammy Award nominations, and the band won four Austin Chronicle awards for the album.
Produced by the band with Julian Raymond (Cheap Trick, Sugarland, LP), All the Pain Money Can Buy also delivered the second single, "Fire Escape," as well as the Top 20 single "Out of My Head" (whose chorus was recently reinterpreted in "Bad Things" by Machine Gun Kelly & Camilla Cabello) while also including a track with Poe (whose LP Hello was certified Gold in 1996).
This 20th anniversary edition contains the original 13 songs, plus nine bonus tracks including rare B-sides, compilation tracks, and four previously unissued demos. To make this anniversary even more special, the album makes its vinyl debut as a double LP containing all of the bonus material. With expanded packaging and an essay from Scott Schinder including a new interview with the band, All the Pain Money Can Buy returns stronger than ever. The way is finally clear.
According to Fastball's Tony Scalzo, "Coming to A&M Studios to record was a big deal for us. Hit records had come out of there for years and years, and you could really feel that when you walked inside. Time and a sizable budget gave us access to all these great session musicians and we were able to go nuts with our ideas. With Julian Raymond in the driver's seat, we were encouraged to take full advantage of the sonic resources available to us at A&M. When we finished we knew we had a great record but didn't expect the success it would bring us."
Fastball's hometown of Austin album release show will take place on Friday, November 9th at Austin's ACL Live!.
Tracklisting:
1. The Way
2. Fire Escape
3. Better Than It Was
4. Which Way To The Top?
5. Sooner Or Later
6. Warm Fuzzy Feeling
7. Slow Drag
8. G.O.D. (Good Old Days)
9. Charlie, The Methadone Man
10. Out Of My Head
11. Damaged Goods
12. Nowhere Road
13. Sweetwater, Texas
Bonus Tracks:
14. Quit Your Job
15. Freeloader Freddie
16. The Way (Cassette Demo)*
17. Fire Escape (Demo)*
18. Slow Drag (Demo)*
19. Sweetwater, Texas (Demo)*
20. Androgynous
21. This Guy's In Love With You
22. The Way (Unpaved Acoustic Version)
*previously unissued
The Big Takeover is extremely pleased to host the premiere of the demo version of Fastball's massive hit "The Way". Even in demo form, the slinky rhythms, dancing piano notes, and mellifluous guitar line flow like a river and the catchy melodies and lyrics completely captivate.
Website
Facebook
Twitter
Instagram
YouTube
comments powered by