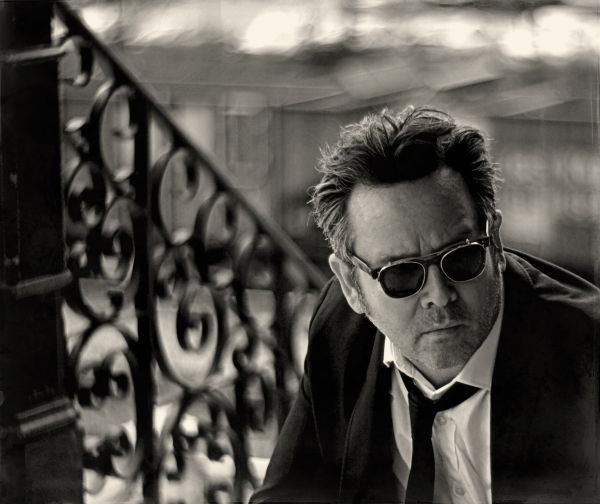 30 November 2017
Grant-Lee Phillips; Photo Credit: Denise Siegel
Acclaimed Nashville-based singer-songwriter Grant-Lee Phillips is set to release his ninth solo album, Widdershins on February 23rd via Yep Roc Records. Phillips explains 'widdershins' is, "…an old word. Moving counterclockwise, spiraling backwards. This album begs the question, "In what direction are we moving?""
Tuned in to the current socio-political climate, Phillips reveals that, for his new album, "I'm drawing from the urgency of the moment." Phillips is inspired by "the things that eat away in the late hours." and he invests his insight, nuance, and wit in a riveting dissection of today's fraught social landscape.
Phillips has already unveiled lead single "Totally You Gunslinger", and today The Big Takeover is honored to premiere "The Wilderness", another timely and relevant cut from Widdershins, which can be pre-ordered here .
"The Wilderness" is an up-tempo folk-rocker running on pronounced drum thump, quick electric and acoustic guitar strokes, and crashing cymbals scintillation. Phillips sings sweetly, but emphatically points out, "I cannot tell men from monsters.", an astute view of at least the current US socio-political turmoil, which is being led by destructive monsters disguised as men…
Going into the backstory of the song, Phillips states that, "There's a dangerous tribalism, something in our nature that falls prey to hazy conclusions. Allies and adversaries are assigned accordingly, us vs. them. It's a trait so easily aroused and vulnerable to manipulation. As the song goes, we never left the wilderness."
Recorded over four days at Sound Emporium in Nashville, the 12-track Widdershins was produced by Phillips (guitar/vocals/keyboards) and cut largely live in the studio as a trio with Jerry Roe (drums) and Lex Price (bass). Mixed by Tucker Martine (My Morning Jacket, The Decemberists) and engineered by Mike Stankiewicz, the album delivers its poetic truths in Phillips' peerless melodic sensibilities, relayed via vocal performances that balance intensity and vulnerability.
"I made a commitment to myself not to sink into despair," explains Phillips, "I'm tracing a longer narrative here. We've been through some of this before – not just our country, but the civilization as a whole." Phillips sees in Widdershins a connection to his earliest work with Grant Lee Buffalo. "That was also a time of intense social anxiety. The Gulf War, the LA riots – everything became cranked up. Then a few years later there was the earthquake we lived through, which also made for a time of uneasiness. I was in a heightened state when I wrote that stuff – as I am now."
The California-born singer, songwriter, guitarist, multi-instrumentalist, actor, film composer, and visual artist began his career in the early '90s as the frontman of the acclaimed trio Grant-Lee Buffalo. Once named "male vocalist of the year" by Rolling Stone, USA Today called him a "soulful balladeer" while Uncut hailed him as a "distinguished U.S. songwriter."
Website
Facebook
Twitter
Instagram
YouTube