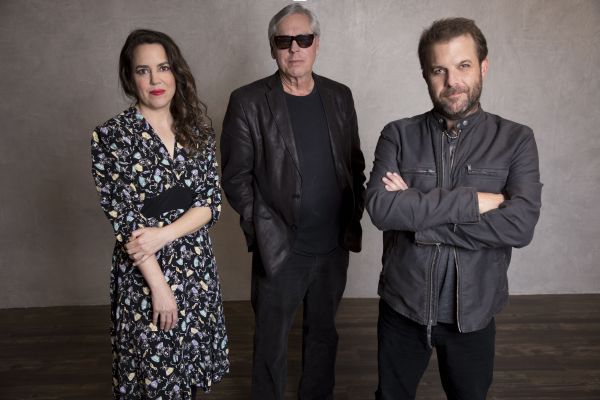 18 June 2018
James Williamson – Photo Credit: Sarah Remetch
A 2010 inductee into the Rock & Roll Hall of Fame as a member of The Stooges, James Williamson is now set to make his most stylistically diverse musical statement to date with his new group, James Williamson & the Pink Hearts.
Fronted by Los Angeles-based vocalists Frank Meyer (The Streetwalkin' Cheetahs) and Petra Haden (The Haden Triplets), the Pink Hearts' repertoire encompasses everything from feral rockers to soul-searching balladry.
The album Behind the Shade by James Williamson & the Pink Hearts will be released on LP+CD, standalone CD, and digitally by Leopard Lady Records on Friday, June 22nd.
Recorded last year in Berkeley (instrumentation) and Los Angeles (vocals), Behind the Shade is a thoroughly modern rock album which also evokes the most stirring elements of '70s rock 'n' roll. Meyer, a consistently impressive songwriting force on the album, penned all of the lyrics and co-shares the lead vocals. Haden's violin graces five tracks and her voice appears throughout the album, either singing lead, on duets with Meyer, or providing harmonies. Williamson supplies all of the riffs, guitar parts, and most bass parts.
The Big Takeover is excited to premiere the restless, emotive rocker "This Garden Lies." Meyer digs into the backstory of the song's lyrics, explaining, "After I got divorced I became obsessed with gardening. Why? Well, my wife and her mother had started this wonderful garden in our backyard, but now that she was gone the garden was starting to wither away. Unconsciously I felt that the garden represented our relationship, so just like I was trying to save the marriage, I tried to save the garden. I even got pretty handy with the ol' rake and hoe after a while. I got really into it for a few years until it finally died when I was away on tour. So the song is about how the garden represented the marriage… and they both died despite my best efforts. You don't hear a lot of gardening songs in rock 'n' roll."
Pre-Order Behind the Shade at Cobraside and iTunes
James Williamson is best known for co-writing with Iggy Pop, and playing all the guitars on, 1973's seminal Raw Power album by Iggy & the Stooges. That album's lead track, "Search and Destroy," has become a rite of passage for any self-respecting rocker. After The Stooges disbanded in 1974, Williamson continued to work with Pop, off and on, throughout the '70s. This period yielded the demo collection Kill City (1977), the infamous live album Metallic K.O. (1977), and a pair of Pop solo albums, New Values (1979) and Soldier (1980).
After a long break, Williamson reunited with Pop and a revamped lineup of The Stooges in 2009. The band played several tours on multiple continents and released a final studio album, Ready to Die (2013), produced and co-written by Williamson.
Website
Facebook
Twitter
Instagram
YouTube
Spotify
comments powered by