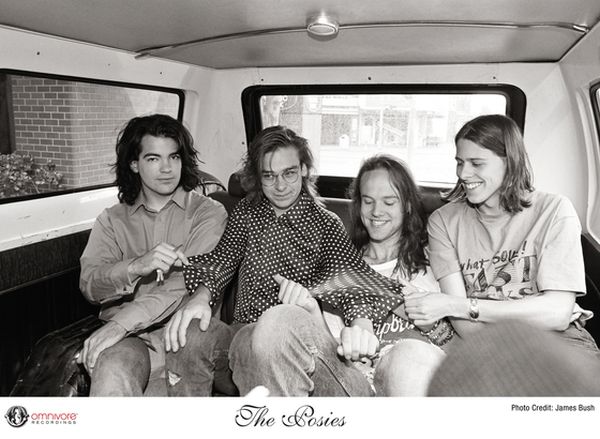 20 April 2018
The Posies; James Bush
Acclaimed and long-running power-pop band The Posies are celebrating their 30th anniversary with expanded CD and vinyl reissues of three of their classic albums; Dear 23, Frosting on the Beater, and Amazing Disgrace.
The PledgeMusic pre-order campaign for these expanded LPs is in full swing, with enticing offers of historical artifacts from the band, as well as house concerts, coffee dates, guitar lessons, and other essentials for fans.
The Posies are also going on a worldwide tour this year that kicks off in May. All Tour Date info can be found below.
The three-album reissue run is happening via Omnivore Recordings, with Dear 23 arriving June 15th, Frosting on the Beater bowing August 3rd, and Amazing Disgrace dropping October 28th.
Dear 23 and Frosting on the Beater each comes as a 2-CD set featuring the original album remastered from original master tapes, plus almost all previously unissued bonus tracks, and on vinyl as a 2-LP set of the original album — mastered at 45 rpm! Amazing Disgrace comes as a 2-CD set, also with the original album remastered from original master tapes, plus almost all previously unissued bonus tracks, and as a 2-LP package — unlike the others, mastered at 33 1/3 as it was simply too long for 45 rpm.
This is a milestone year for the Posies, fronted by Ken Stringfellow and Jon Auer, as the band began its career exactly 30 years ago. Now, with major changes in the way music is consumed since the albums were originally released, the records have not been regularly available: CDs out of print, inconsistent presences on streaming, LPs either long out of print,or not issued at all, depending on the territory. The CDs themselves, especially Dear 23, which came out in the early days of the format, were not exactly true to the analog masters from which the albums were made.
All that is changing thanks to the band's "favorite label," Omnivore Recordings, which has, among many releases new and old, previously reissued Failure, as well as releases from Big Star and Game Theory, among others.
The band is offering many personal items, experiences, and exclusive merchandise via a fundraiser on PledgeMusic, from clothes they've worn onstage or in videos to spending quality time with Jon and/or Ken in their adopted city of Paris, or a coffee date in Seattle. Also offered are private shows, music lessons, plus exclusive Jon- and Ken-style guitars. Finally, the band offers VIP experiences and souvenirs from the upcoming 30th Anniversary Tour around the world.
As written on the PledgeMusic page, "We are basically putting a museum's worth of items on this campaign … If you've ever wanted an authentic artifact of our music, our career, our lives — now is the time! Thank you in advance for your support and we're very excited to make this music available again to our fans new and old alike."
Take a listen to a bittersweet bonus demo track, a sonically stripped down (just acoustic guitar), but vocally harmonious version of "This One's Taken", from the expanded reissue of Dear 23:
To take this celebration around the globe, the Posies, who have had a few lineup changes over the years (always based around the founding duo of Auer and Stringfellow) will be on tour as the 1992-1994 line-up that made Frosting on the Beater — Jon and Ken will be complemented by drummer Mike Musburger and bassist Dave Fox.
It's been almost a quarter century since this quartet has been on the road, and recent warm-up shows have been as explosive as those played by the twentysomethings of yore. Catch the band on tour this spring in North America, and this fall in Europe — their time is now, again.
North America
Fri., May 18 VICTORIA, BC Capital Ballroom
Sat., May 19 PORTLAND, OR Doug Fir Lounge
Sun., May 20 EUGENE, OR WOW Hall
Mon., May 21 BEND, OR Volcanic Theatre Pub
Tues., May 22 SACRAMENTO, CA Harlow's
Wed., May 23 SAN FRANCISCO, CA The Independent
Thurs., May 24 SAN JUAN CAPISTRANO, CA Coach House
Fri., May 25 LOS ANGELES, CA Bootleg Theater
Sat., May 26 SAN DIEGO, CA Soda Bar
Mon., May 28 PHOENIX, AZ Valley Bar
Wed., May 30 SANTA FE, NM Santa Fe Brewing Co.
Thurs., May 31 DALLAS, TX Club Dada
Fri., June 1 SAN ANTONIO, TX Paper Tiger
Sat., June 2 AUSTIN, TX The Parish
Sun., June 3 HOUSTON, TX Bronze Peacock at House of Blues
Mon., June 4 LITTLE ROCK, AR Capitol View Studios
Wed., June 6 NEW ORLEANS, LA The Parish at House of Blues
Thurs., June 7 NASHVILLE, TN Mercy Lounge
Fri., June 8 BIRMINGHAM, AL Saturn
Sat., June 9 ATHENS, GA Georgia Theatre
Sun., June 10 CHARLOTTE, NC Neighborhood Theatre
Mon., June 11 ANNAPOLIS, MD Ram's Head On Stage
Wed., June 13 PHILADELPHIA, PA World Cafe Live
Thurs., June 14 FAIRFIELD, CT Stage One at Fairfield Theatre
Fri., June 15 SOMERVILLE, MA ONCE Somerville
Sat., June 16 WASHINGTON, DC The Hamilton
Sun., June 17 NEW YORK, NY The Bowery Ballroom
Tues., June 19 PITTSBURGH, PA Club Cafe
Wed., June 20 CLEVELAND, OH Music Box Supper Club
Thurs, June 21 KALAMAZOO, MI Bell's Eccentric Cafe
Fri., June 22 DETROIT, MI The Magic Bag
Sat., June 23 CHICAGO, IL Park West
Sun., June 24 MADISON, WI High Noon Saloon
Mon., June 25 DES MOINES, IA Vaudeville Mews
Tues., June 26 ST. PAUL, MN Turf Club
Thurs., June 28 MILWAUKEE, WI Summerfest
Sat., June 30 DENVER, CO Levitt Pavilion
Sun., July 1 SALT LAKE CITY, UT The State Room
Fri., July 6 BELLINGHAM, WA Wild Buffalo
Sat., July 7 SEATTLE, WA Neptune Theatre
Europe:
Fri., Aug. 31 VLIELAND, NETHERLANDS Into the Great Wide Open Festival (sold out)
Sat., Sept. 1 HOOGWOUD, NETHERLANDS Zomerpop Festival
Sat., Sept. 29 BARCELONA, SPAIN Upload
Sun., Sept. 30 ZARAGOZA, SPAIN La Lata de Bombillas
Mon., Oct. 1 CORDOBA, SPAIN Hangar Cordoba
Tues., Oct. 2 CADIZ SPAIN Aulario de la Bomba,
Wed., Oct. 3 GRANADA, SPAIN Lemon Rock
Thurs., Oct. 4 VALENCIA, SPAIN 16 Toneladas
Fri., Oct. 5 MADRID, SPAIN Sala Caracol
Sat., Oct. 6 PONTEVEDRA, SPAIN Teatro Principal (matinee)
Sat., Oct. 6 GALICIA, SPAIN TBA (evening)
Sun., Oct. 7 AZPEITIA, SPAIN San Augustin Kulturgunea
Tues., Oct. 9 PARIS, FRANCE La Maroquinerie
Wed., Oct. 10 UTRECHT, NETHERLANDS Tivoli
Thurs., Oct. 11 GRONINGEN, NETHERLANDS Vera
Fri., Oct. 12 HEERLEN, NETHERLANDS Poppodium Nieuwe Nor
Sat., Oct. 13 ALKMAAR, NETHERLANDS Podium Victorie
Sun., Oct. 14 HENGELO, NETHERLANDS Metropol
Tues., Oct. 16 DÜSSELDORF, GERMANY Zakk
Wed., Oct. 17 KORTRIJK, BELGIUM Wilde Westen
Thurs., Oct. 18 MECHELEN, BELGIUM Cultuurcentrum Mechelen
Fri., Oct. 19 LONDON, UK The Garage
Sat., Oct. 20 LEEDS, UK Brudenell Social Club
Sun., Oct. 21 GLASGOW, UK King Tut's Wah Wah Hut
Tues., Oct. 23 MANCHESTER, UK The Deaf Institute
Thurs., Oct. 25 BREMEN, GERMANY Tower
Fri., Oct. 26 HAMBURG, GERMANY Häkken
Sat., Oct. 27 BERLIN, GERMANY Berghain Kantine
Mon., Oct. 29 HELSINKI, FINLAND Savoy Theatre
Wed., Oct. 31 LARVIK, NORWAY Sanden Kafe at Kulturhuset Bølgen
Thurs., Nov. 1 STAVANGER, NORWAY Folken
Fri., Nov. 2 BERGEN, NORWAY Madam Felle
Sat., Nov. 3 TRONDHEIM, NORWAY Teaterhuset Avant Garden
Sun., Nov. 4 OSLO, NORWAY John Dee
Tues., Nov. 6 GOTHENBURG, SWEDEN Pustervik
Wed., Nov. 7 STOCKHOLM, SWEDEN Fasching
Thurs., Nov. 8 MALMÖ, SWEDEN Inkonst
For more information and tickets, head to The Posies' website
comments powered by