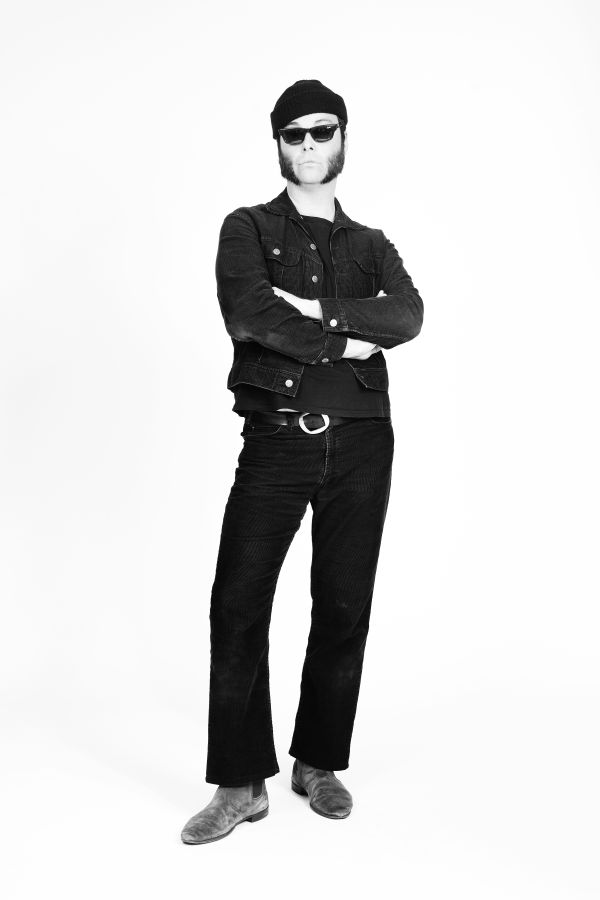 30 December 2016
Joel Gion; Photo Credit: Alex Hurst
Joel Gion continues to have a long and strange career being the legendary "Tambourine Man" with the Brian Jonestown Massacre. In recent years the percussionist has also emerged as a singer-songwriter in his own right, releasing various singles and the well-received full length album Apple Bonkers.
Gion has a follow-up LP scheduled for release in early 2017 on Acid Jazz Records label imprint Well Suspect.
Today we have a new song from Gion, titled "Tomorrow", to help party out of the much maligned year that was 2016. This is an exclusive, non-album track available as a digital single as well as on streaming services.
The upcoming album was recorded in separate phases between legs of the 2016 Brian Jonestown Massacre world tour. The sessions involved BJM members Collin Hegna, Dan Allaire, Ryan Van Kriedt, and Robert Campanella, as well as other various friends from around the modern Psych and Indie scene. This time around, Soul Jazz, Tropicalia, and Italio Soundtrack sonics have been added to the album's mix, making for a deeper dive into a world that sounds all his own.
But until then we have "Tomorrow", tipping us off that it's time to pull ourselves up by our boot straps and our booties in a world that is seemingly going mad in front of our eyes.
Buy on iTunes
Official Site
Facebook
YouTube
Well Suspect Records
The Brian Jonestown Massacre Tour Dates
Q&A Interview with Joel Gion
by Joseph Kyle
Tell me a little bit about your new single, "Tomorrow."
JOEL: I wrote and recorded it earlier this year while the Democratic party campaigns were the big topic and everyone here in lefty California were flipping out about what a monster Clinton is and that Bernie was our man (mine too). So the tune does some BS-calling out of the rising classism in the USA and at the same time sending a message out to not let things get you down too hard – but then nobody in the free-thinking world have ever dreamed things would wind up going this far south in the end. Still, having said that, this is the only life you have, so you have to enjoy it no matter how stupid things get, 'cause we always have each other and you always have yourself. So fuck 'em.
What are your plans for the new year? Who is in your band these days?
JOEL: I'm just about done with a new record, so that's next; also working on a book, and there is always Brian Jonestown Massacre tours, which are so much fun these days. We have a such a blast out there and the people coming to the shows are just so cool on the whole. I've got most of the BJM boys on my record as well, along with some other groovy friends from the music scene.
Will you make another appearance on Gilmore Girls?
JOEL: Haha – I don't think so. They actually cancelled my already-written, third appearance on the show 'cause I guess I became a hassle. During the filming of my second appearance I was to do this sort of free-form hip-shaking, "C'mon momma, please!" soul routine, so I went full Dig! on it and had the cast, crew, and extras busting up every take. Just really going for it.
Anyway, when the higher-ups saw the footage, I guess they got worried I would claim I had written an actual song with the routine and they would then have to pay me royalties on my "original composition", which is ridiculous because I'm just improvising and trying to make it actually entertaining – so, whatever. A few days after we filmed it in Hollywood, I had to go back into another recording studio where I live in San Francisco and re-dub my part toned-down with mostly just grunts. So now I'm a pain in the ass, which is fine because I actually have a black belt in being a pain in the ass. I only did the show to be weird in the first place.