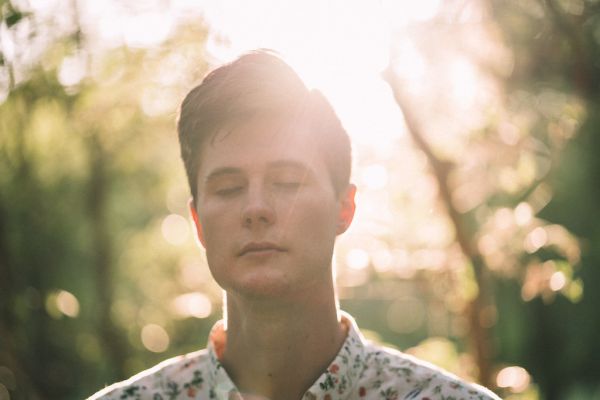 22 August 2018
Clark Twain – Photo Credit: Adam Kingman
Over the past few decades, Austin, Texas has established itself as one of the music capitals of the USA. Apart from hosting such events as SXSW, Levitation Festival (formerly Austin Psych Fest), and others that led to the city becoming known as the 'Live Music Capital of the World', a whole slew of great bands have also emerged from ATX.
Today we introduce another artist hailing from Austin. Clark Twain presents his new single "Try Too Hard" off his forthcoming debut album Life is Wonderful, slated for release on November 1t. On this track, Clark Twain presents serene and harmonious pop-rock, laced with innocence and channeled through his prism of hope. This definitely leaves you wanting to hear more from the debut LP.
"I think of songs as little spaces. they are created to be visited: like a room in your house, a nook in your hometown, a store on your favorite street. you know where it is, have an experience with it, and can go back to it to wander around as often as you'd like. I hope these little spaces I'm creating provide some refuge, a place to dance, and maybe even a place to bring a friend and eat tacos," says Clark Twain.
""Try Too Hard" is a song I wrote for the people I accidentally hurt in life. I can be stubborn and unintentionally cause harm to those I love and/or work with."
This single follows Twain's recently released debut single "Fly High (Like Richard Branson)", a fun and upbeat track that drew inspiration from an unlikely, but intrepid source – Richard Branson, whose voice features in the latter half of this track, speaking excitedly about flight at high speeds.
Sure to be popular among fans of Ben Folds, Toad The Wet Sprocket, Elliot Smith, Ben Kweller, Coldplay, Gin Blossoms, Death Cab for Cutie, and Tal Bachman, Clark Twain's music is influenced by Death Cab for Cutie, the Flaming Lips, Ben Kweller, and John Mayer.

Clark Twain is the solo moniker of Clark Nowlin, who began playing guitar at 10, cutting his teeth on Metallica and Nirvana covers with friends in the attic and starting his first band a few years later. He eventually quit his day job to fully immerse himself in the world of music "because the gig money put enough gas in my tank". After touring and recording with Tim Halperin and Marshall Young for a few years and supporting various artists, he amassed recording gear, learned the ropes, and began producing various musical projects.

Clark dedicated a solid 6-month block of time to working on his new material, beginning in January of this year, and splitting time between Elmwood Studios in Dallas, Clark's home studio in Austin, and in Denton, Texas with Brack Cantrell, one of Clark's all-time favorite producers, who also mixed his new material. Mastering was performed by Jon Törnblom.

"If music is to serve any purpose, it's to remind us that we're alive and that we're not alone. For me, making it is a sign that I'm alive. Connecting with it is a sign that this big mysterious journey called life isn't new territory and that whatever situation we're in – someone's already been there and has made it through," says Clark Twain.


"I'm an eternal optimist and truly believe the best is yet to come in our experiences here on Earth. If there's a shred of this hope embodied in this music, I've achieved my goal. I hope that these sounds put a little wind-in-your-sails when needed on a still day."
Clark Twain's "Try To Hard" will be released in mid-September. Already now, you can find his debut single "Fly High (Like Richard Branson)" through online stores and streaming platforms such as Spotify, as well as Bandcamp.

Also check out this adventurous video for "Fly High (Like Richard Branson)":
CLARK TWAIN
Website
Facebook
Twitter
Instagram
YouTube
SoundCloud
Spotify
iTunes
Bandcamp
comments powered by