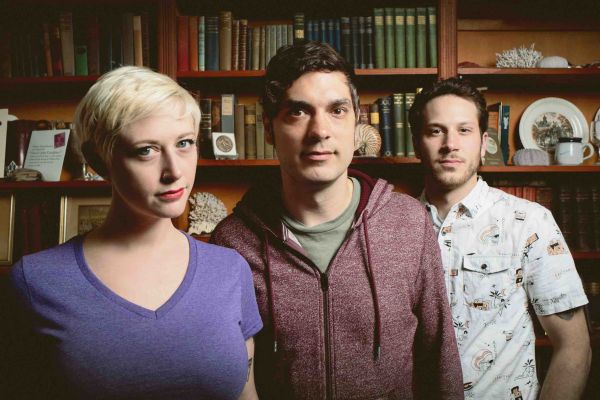 5 July 2018
Dentist – Photo Credit: Matthew Lyons
Indie surf rock outfit Dentist have rightfully earned their place as one of more prominent 'buzz bands' from New Jersey's burgeoning music scene. If you ever were a fan of The Primitives, The Cardigans, Fazerdaze, Alvvays, Best Coast, Soft Science, or Japanese Breakfast, you ought to enjoy this ride.
Today The Big Takeover offers you the first listen to "Upset Words", the band's new single from their forthcoming album Night Swimming, to be released via Cleopatra Records on July 20th and following up their first single "Corked". "Upset Words" showcases everything there is to love about this band – talent, vision, a rounded well-produced sound, optimism, and fun. Definitely on our radar and looking forward to the full album.
Dentist whips up a potent sonic sea spray on "Upset Words", riding choppy guitar waves and a propulsive drum rhythm. A deeper undercurrent of bass churns around Emily Bornemann's sweetly buoyant vocals that are tinged with sandy grit.
Dentist centers around the songwriting partnership of Emily Bornemann (vocals and bass guitar) and Justin Bornemann (guitar), who had been writing songs and performing together in various ways since first meeting in 2008. The band is rounded out by Matt Hockenjos on drums. Dentist was named one of the top 10 bands at this year's SXSW by Mercury News and is also a darling of critics at NPR, Stereogum, Flood Magazine, and more.
The new Night Swimming album juxtaposes catchy indie surf pop with lyrical themes about social anxiety and heartache. The album showcases an aggressive approach to their beach-inspired pop with lyrics covering the spectrum of human emotions. Produced by Andy Bova and Justin Bornemann, this album was mastered by Jürgen Engler (Die Krupps, Nico, Iggy and The Stooges, Queensryche).
"This album was an attempt to capture all the different aspects of ourselves and create something that we would want to listen to," says Justin Bornemann. "Musically we are attracted to rawness and simplicity, but melodically we lean towards a pop aesthetic. The lyrics tend to be focused on social anxiety, heartache and loss, but sometimes reveal love and optimism," adds Emily Bornemann.
Their strongest release to date, the new album showcases the bands ability to fit pop hooks into powerful garage punk one moment, then dreamy surf pop the next. The album is cohesive but represents an exercise in capturing all aspects of the band's personality. The band, who tour consistently, has shared the stage with Television, Screaming Females, Ringo Deathstarr, and Laura Stevenson, among others.
Formed in 2013 amid the oceanfront urban landscape of Asbury Park, Dentist's sound combines the freedom of the beach atmosphere and the urgency of the city into a fuzzed-out, surf punk-tinged brand of indie pop with hooks and infectious melodies to spare. Emily Bornemann's sweet, airier vocals are countered by the band's sometimes aggressive, but always addictive sound.
The band released their self-titled debut album in 2014, which Pandora described as "a deliriously infectious collection of fuzzy, California-styled, indie pop jangle and sun dappled garage rock crunch."
Their second album Ceilings was released in 2016 via Little Dickman Records to critical acclaim, receiving press from the likes of Noisey and Stereogum. Their single "Meet You There (In Delaware)" found its way onto Spotify's Fresh Finds playlist and was chosen as one of Daytrotter's top 100 songs of 2016.
This summer, Dentist will be embarking on a new nationwide tour, running through July and August, in support of their Night Swimming album. This will be their longest US tour to date spanning coast to coast. Catch them at one of the dates below and pre-order the album at Bandcamp
TOUR DATES
7/18 Philadelphia, PA at Ortlieb's
7/19 Washington DC at Black Cat
7/20 Richmond, VA at Hardywood Brewery
7/21 Charlotte, NC at Petra's
7/22 Chapel Hill, NC at Local 506
7/24 Atlanta, GA at Smith's Olde Bar
7/25 New Orleans, LA at Gasa Gasa
7/26 Houston, TX at notsuoh
7/27 Austin, TX at Cheer Up Charlies
7/28 El Paso, TX at Love Buzz
7/30 Phoenix, AZ at Trunk Space
7/31 Long Beach, CA at The Prospector
8/1 San Diego, CA at Soda Bar
8/2 Los Angeles, CA at Highland Park Bowl
8/3 Visalia, CA at Cellar Door
8/4 Sonora, CA at Winter's Tavern
8/5 Reno, NV at Jub Jub's
8/6 Salt Lake City, UT at Kilby Ct
8/7 Denver, CO at Lost Lake
8/8 Lawrence, KS at Replay Lounge
8/9 Columbia, MO at Cafe Berlin
8/10 Omaha, NE at The Down Under
8/13 Muncie, IN at BHN
8/14 Cincinnati, OH at The Hub
8/15 Buffalo, NY at Mohawk Place
Also, take a listen to their earlier single and another track from the album:
DENTIST
Website
Facebook
Twitter
Instagram
YouTube
SoundCloud
Bandccamp
Spotify
iTunes
comments powered by