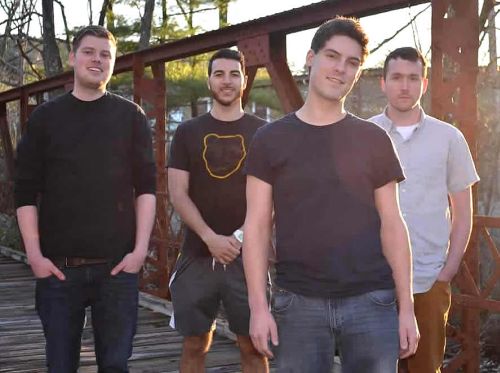 23 November 2016
Snow Day; Photo Credit: Snow Day
Born in the heart of Blackstone Valley, Snow Day is a rock band out of Worcester, Massachusetts that combines the hard hitting power of rock 'n' roll with a gentle upbeat vibe of party-pop on its recently released Two Hour Delay EP.
Snow Day consists of four members who are on a mission to have fun, play loud, and bring back the good-time atmosphere that is the MO of the rock 'n' roll agenda and life style. The band took flight in the spring of 2015, when lead vocalist and rhythm guitarist, Dylan Ferreira matched up with the band's bassist and vocalist Eric Mead, lead guitarist and vocalist Alex Coe, and drummer/crossfitter Christian Scavo.
Within the first six months of being a band, Snow Day teamed up with Elder Sound Studios to help mix and produce its first EP. After the mix and production process, the band then sent the semi-complete product to multi-Grammy Award-winning mastering studio, Lurssen Mastering, in Los Angeles, California. It was at that point where the members were able to beef up their sound, clarify the vocals, and cultivate the high-energy record known as Two Hour Delay.
Since the release of the Two Hour Delay EP, the members of Snow Day has been super-active in promoting their sound. The band received great recognition with Boston Rock Radio, reaching #1 on the most requested song chart with their hit "A Pretty Kind of Nothing."
Through this connection, the band was then able to team up with venue agents and continued to play shows steadily throughout the New England area. With persistence and burning desire to play, the band has been able to capture the attention of numerous venue owners with the ability of being able to efficiently pack venue halls.
Along with the ability to create their own events, the band members were able to host a self-thrown benefit show in honor of their injured producer in late April of 2016. Snow Day was able to book and perform with high profile bands/artist such as The Hotelier and Born Without Bones, raising hundreds of dollars to aid in the recovery of their producer. Snow Day is now directing its focus on an international audience with their signing to the label Holier Than Thou Records.
Take a listen to Snow Day's latest single, "Vending Machine," below.
Facebook
Twitter
Snow Day at Holier Than Thou
comments powered by