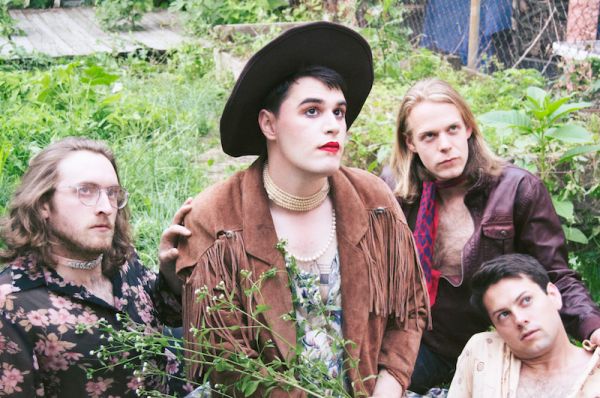 18 April 2018
Sixteen Jackies; Photo Credit: Carmella Martonick
Sixteen Jackies have been lurking in the basement of Philadelphia since early 2016, building a sound that while often nostalgic, defies easy categorization. With their first EP, Movie Was Bad, they've unveiled an offbeat pop sensibility which draws to mind both the manic spirit of Talking Heads and the Pixies as well as the aching balladry of Roy Orbison.
By setting the intimate details of singer Jody DeMarco's singularly queer experience against a soundscape which takes cues from the atmosphere of classic horror films, Sixteen Jackies have produced a unique set of torch songs and rockers for misfits and weirdos of all kinds.
New EP Mascula" is set for release as part of a 12" EP that includes previous record Movie Was Bad. The double EP is slated to come out in May via Born Losers Records.
The Big Takeover is pleased to premiere a killer cut off the Masucla EP, "VHS #2 (Masks)", an up-tempo noise-rocker that winds by with siren-like guitar lines, kinetic drum beats, and crashing cymbals. The bass line stalks through the song as DeMarco unpeels layers of his lyrics in a plaintive vocal tone.
DeMarco remarks, "Lyrically, the song ruminates on the concept of American masculinity using images and characters pulled from the 1974 horror classic The Texas Chainsaw Massacre. The villain of the film wears different masks that represent different ideals or aspects of his personality (a killer, an artist, a maternal figure, etc) yet ultimately he is still a result of his environment and his upbringing: a monster."
Double 12" EP Pre-Order link
Facebook
Instagram
Bandcamp
SoundCloud
Spotify
comments powered by