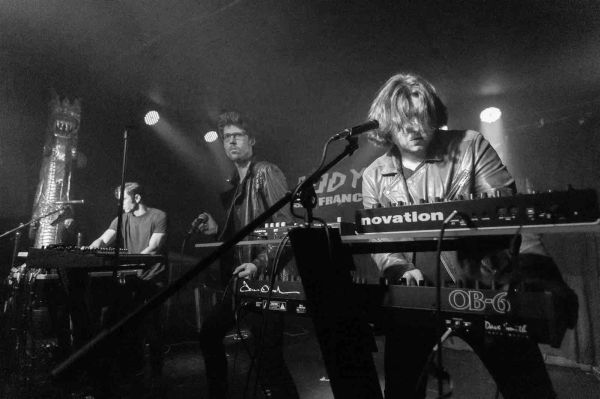 14 March 2017
INHALT;Photo Credit: Geoff Smith
Among the new tracks kick-starting this week is "Walking On Glass" by INHALT, a trio based in San Francisco, which upon first listen might come as a surprise since the vocals are entirely auf Deutsch. The German effect only adds to its association with Kraut rock/Kraut pop rooted in the '80s, yet this somehow feels totally new – no copycatting here, but the track does embody a certain mark and geographic location in time, building further on this imperceptible sonic time capsule.
"Walking On Glass" is a gem from INHALT's new album Part Time Punks Sessions via Cleopatra Records, which features the best of the band's repertoire, recorded in real-time in collaboration with the renowned L.A.-based radio show Part Time Punks. This is the band's fourth significant release and final album to be recorded at its homebuilt studio in San Fran, affectionately called "The Bunker".
"Walking on Glass" is razor-sharp, attention-grabbing track that's loaded with energy-based drive and an industrial element, complete with clever melodies and powerful vocals.
INHALT means "content" in German. Founded by Philip Winiger and Matia Simovich in 2009, they were soon joined by Steven Campodonico. Winiger originally hails from Switzerland and has a preference for singing in his native tongue of German. However, multiple tracks on previous releases also find him expressing himself in French and English.
"If we've been accused of putting too much time in the production process, PTP Sessions would be our antithesis; Done quickly, direct to multi-track analog tape, in a single take, capturing our live show, as it is, warts and all. We took inspiration from the John Peel sessions of days past, and worked in the spirit of that body of work from the performance, straight to the final mix down," explains Simovich.
He continues, "It was a great privilege to be asked to do this by Michael Stock (who runs Part Time Punks), and we delivered something that we feel matches the essence of PTP: raw, honest, and on the border between the past and the present."
With there being so many sub-genres in the electronica ballpark these days, INHALT seems to be straddling the borders of several at the same time – dark electronica, minimal synth, goth pop, light industrial, post-punk, and synthpop.
On the concert circuit, INHALT have a reputation for bringing a tour de force wall of sound with an energetic stage presence. They have played concerts with peers old and new, including Front 242, Clock DVA, Martial Canterel, and High Functioning Flesh. They've condensed this raw concert experience into the John Peel-esque Part Time Punks Sessions, to be made available on April 14, both digitally and on CD, via Cleopatra Records with the vinyl release to follow.
On April 14, INHALT 'Part Time Punks Sessions' will also be available both digitally and on CD via the band's Bandcamp , both of which are already available for pre-order. This album will also eventually be made available on vinyl directly from Cleopatra Records
Coming up this weekend, on March 17, INHALT will deliver a specially curated DJ set in Austin at SXSW as part of the event AFS and Holodeck Present: Kwaidan Rescored 2017 SXSW Official. This event, which takes place at The Hideout Theater beginning at 7pm local time, was organized by Holodeck Records in partnership with the Austin Film Society.
We also invite you to indulge yourself in the video for this track, which was shot, edited, and directed by Dmitry Semenov, as well as one for "Vehicle", another track found on this release, created by Logan Owlbeemoth.
INHALT
Official Site
Facebook
Bandcamp
SoundCloud
YouTube
iTunes
Instagram