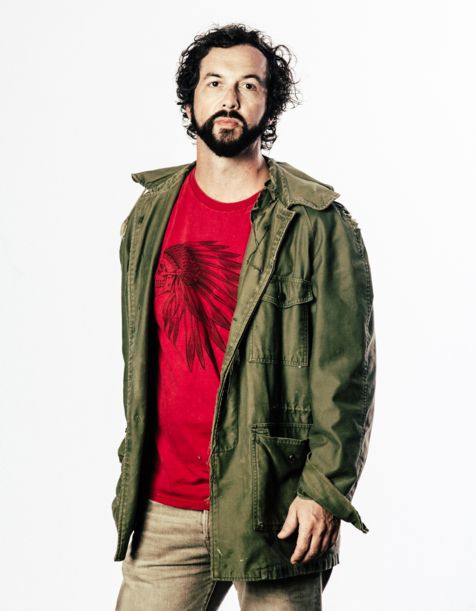 5 June 2018
Jerry Castle – Photo Credit: Joshua Black Wilkins
Jerry Castle merges his sharp singer/songwriter roots with upbeat tempos, layered arrangements, pop melodies, and rock & roll muscle on his latest album, Brand New Hello. It's a bright album for cloudy times, filled with a sense of buoyancy — an anthemic synthesizer here, a four-on-the-floor drumbeat there — that emphasizes hope and renewal over sorrow. The most modern-sounding project in his catalog, Brand New Hello fires twin barrels of political insight and poppy punch, influenced by everything from America's social climate to the Top 40 music his daughter would play in the car during the album's creation process.
A former jam-band frontman whose solo albums have typically explored an Americana-inspired sound, Jerry Castle began attracting a wider audience with 2016's Not So Soft Landing. One of that album's standout songs, "She Kills," became a Number One single on the Roots Music Report's Folk Rock Chart that year, while outlets like Rolling Stone praised Not So Soft Landing's "haunting, trippy vibe." Brand New Hello follows in a similar vein, offering a diverse mix of pop and Americana-inflected tunes.
Jerry Castle still sings with a slight southern twang — a product of his childhood days in Abingdon, Virginia, a small town not far from the Tennessee border — but he writes from a more universal perspective on his sixth solo release. Brand New Hello is exactly what its name suggests: a reintroduction to an artist who's been around for a decade, discovering uncharted territory with each record. Poignant, pointed, and punchy, it's the soundtrack for a fresh start.
The Big Takeover is pleased to premiere a track from the album, the widescreen-leaning "Way Out". Straightforward verses lead to swelling chorus sections with Castle's heartfelt exclamations surrounded by wavering organ notes, supporting female vocals, occasional zippy synth lines, and a driving rhythmic groove.
Castle reveals, "It's one of the most bizarre songs on the album and at the same time, it's the glue that ties the entire concept of the album together. The guy that mixed it, Warren Riker (The Fugees, Lauryn Hill, Anders Osborne) said that it reminded him of some "Breakfast Club shit", it's one of my favorite compliments ever."
Website
Facebook
Twitter
Instagram
YouTube