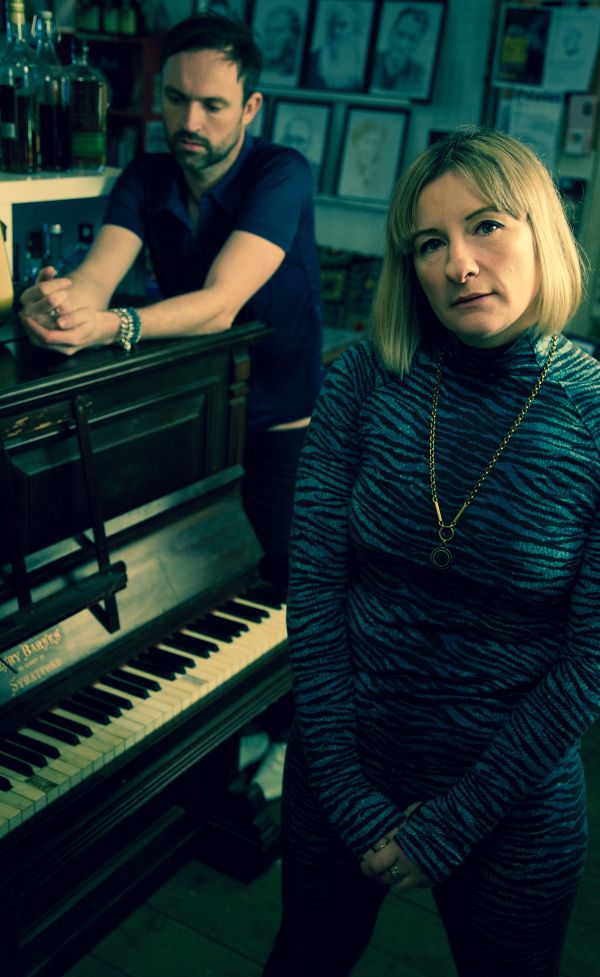 11 May 2017
Cowbell; Photo Credit: Damaged Goods Records, U.K.
Retro Americana duo Cowbell will deliver its third full-length, Haunted Heart, on June 2nd via UK's Damaged Goods Records. Jack Sandham and Wednesday Lyle may hail from London, but their musical homeland is rooted in pure Americana. As Cowbell, Sandham and Lyle distill essential and vintage elements of raw R&B, garage rock, soul, blues, and rockabilly into a spirited sonic cocktail.
Their new album, Haunted Heart, finds Sandham (guitar/vocals) and Lyle (drums/vocals) refining and expanding their vivid garage-soul sound. On this record, the duo bolstered its typically stripped-down guitar-and-drum approach by including other instrumentation to the mix. This includes the Doors -like keys, Delta gospel blues, old-time organ press, Laurel Canyon vibes, and smoky piano jazz.
Cowbell began in 2009. At the time, Sandham was performing solo following a stint in U.K. blues-rockers Great Bear. He started to jam with Lyle, an old friend who had recently started playing drums. The two connected right off. Having known each other a long time, they could communicate well with each other, and they discovered that they shared many musical references.
In 2010, they released their debut single, "Oh Girl," and later that year, the Too Pure Singles Club put out their second single, "Never Satisfied." After self-releasing a third single, Cowbell signed with Damaged Goods Records. The noted English punk and roots rock label proved a good match for Cowbell, with the band complementing Damage Goods' fellow Anglo-cana garage rockers like Holly Golightly, Billy Childish, Thee Milkshakes, and Thee Headcoats.
Cowbell released its debut album, Beat Stampede, in 2012. Second full-length, Skeleton Soul, dropped in 2014 and contained the infectious single "She's All Over You."
A feel-good vitality that Cowbell exhibits on their recordings also shines through in dynamic concert performances. With the arrival of the captivating Haunted Heart, Cowbell will be attracting more converts to their garage soul gospel. Sandham and Lyle plan on touring not only in their home country and Europe but also crossing the Atlantic to America. The duo can be seen as a true trans-Atlantic band — as in Atlantic Records — in the way that Dusty Springfield's and Ray Charles' Atlantic recordings stands as touchstones for Cowbell's music.
comments powered by