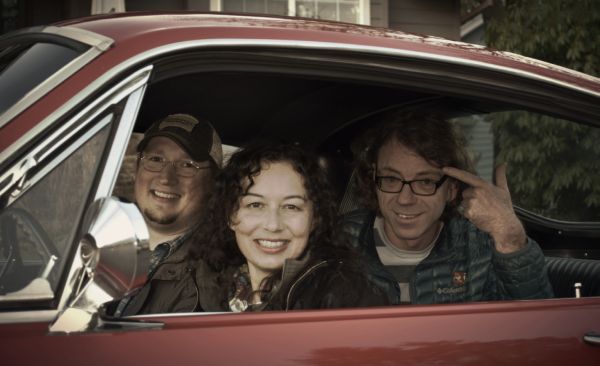 28 June 2018
Rocket 3 – Photo Credit: Jennifer Hertzler Foust
Portland, Oregon-based indie pop band Rocket 3 are celebrating the forthcoming release of their second album, What's the Frequency?, by premiering here at The Big Takeover one of the album's tracks, "What If," an energetic, three-chord banger with multiple time signatures and a call-and-response describing the choice between a drug addiction an a relationship.
Of the soncially sweet, upbeat song, lead singer/guitarist Ramune Nagisetty says, ""What If'" is the very first song that bass player Kenneth Foust and I wrote together after he joined the band. It's about choosing between a relationship and a drug addiction. It was actually supposed to be a duet between two people with one person singing "What if I just need you?' and the other person responding "What if I need to leave?" Gavin Duffy played keyboards on the recording and really took the song to the next level."
What's the Frequency? is the follow-up to Rocket 3's self-released 2014 debut album, Burn, which reached #76 on the CMJ Top 200, earning the band critical acclaim and comparisons to Belly, La Sera, Blake Babies, and the Breeders.
What's the Frequency?, a nine-track collection of indie pop delight, grows out of the band's pop-punk roots with disarming vocals and clean, warm guitar tones. The title is a nod to both the R.E.M. song and to Foust, who joined the band in 2015 and shares songwriting duties with Nagisetty. Andrew Anymouse adds drums, while Portland musical talent Gavin Duffy contributes saxophone and keyboards to add new flavors to an already tasty recipe. Matt Jefferson, producer of Burn, reprises his role as recording engineer and producer of What's the Frequency?
Rocket 3 has played hundreds of live performances in Portland since 2012. Their song "I See" was included on Portland's 2017 PDX Pop Now! compilation CD. The bandmates contribute more broadly to Portland's music culture, with Ramune writing for the Portland Notes music blog and Andrew hosting the Local Roots Music Showcase. However, the band is most proud to have raised over $5K for the American Cancer Society through sales of their debut album, Burn.
Website
Facebook
Twitter
YouTube
ReverbNation
comments powered by