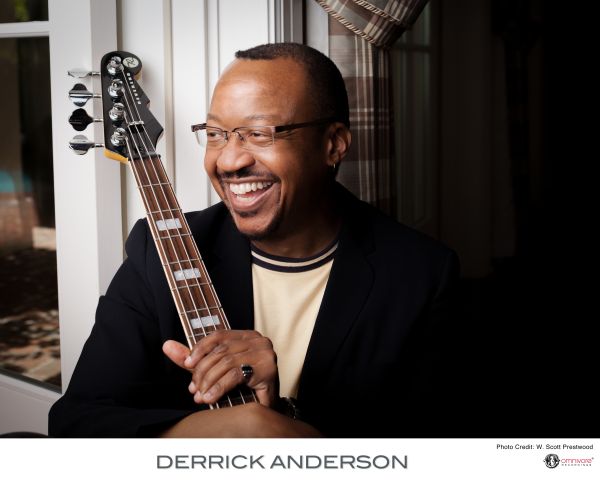 24 March 2017
Derrick Anderson; Photo Credit: Scott Prestwood
Bassist Derrick Anderson, known for his work with the Bangles, Dave Davies (the Kinks), and others, steps into the spotlight with his solo debut album, A World of My Own, which arrives April 1st on Omnivore Recordings.
On the album, Anderson is joined by the renowned Matthew Sweet and notable members of the Bangles, the Smithereens, the Muffs, the Cowsills, and more.
From 1995-2004, Anderson, as part of the Andersons!, romped throughout Los Angeles, flashing an energized, cheeky brand of pop/rock. He then toured with Davies and became the bassist for the Bangles in 2008.
A World of My Own draws inspiration from the Cavern Club, Brill Building, and Laurel Canyon, and the album's 13 songs feature guest performances from an array of kindred spirits. Heavy-hitting "Waiting for You," features backing by the Smithereens (Pat Dinizio, Jim Babjak, Dennis Diken, and Severo Jornacion) and producer Ed Stasium's (The Ramones, The Smithereens, Talking Heads) panoramic mix.
"Happiness" features stinging guitar lines from Matthew Sweet, while "A Mother's Love" showcases the lush vocals of Bob, John, and Susan Cowsill. The Bangles' Susanna Hoffs and Vicki and Debbi Peterson provide backing vocals on the songs "Something New" and "Spring", the latter tune also reuniting Anderson with the Andersons! guitarists Robby Rist-Anderson and Wil O'Brien-Anderson, and drummer Marc Joseph-Anderson.
The Big Takeover is delighted to premiere the track "When I Was Your Man", which combines the Bangles' guitarist Vicki Peterson and drummer Debbi Peterson with Kim Shattuck (the Muffs, the Pandoras) on guitar and vocals. A good time is had by all on an upbeat and catchy number that is sure to get the head nodding and the toes tapping along.
Anderson reveals, "It was a blast, getting Vicki & Debbi Peterson (Bangles) to join forces with Kim Shattuck (Muffs) as the backing band (and backing singers) on this little number. We all had such a great time and hopefully it shows!" Oh, yes – yes it does!
A World of My Own Track Listing:
1. Send Me Down a Sign
2. Waiting for You
3. You Don't Have To Hurt No More
4. Something New
5. Phyllis & Sharon
6. Happiness
7. Checking Out
8. A Mother's Love
9. My Prediction
10. Stop Messin' About
11. When I Was Your Man
12. Spring
13. Norwegian Wood (This Bird Has Flown) (bonus track)
comments powered by