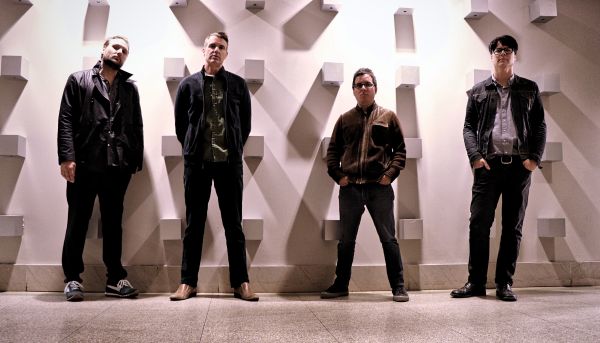 4 December 2017
MOTORCADE; (L-R): James Henderson, Andrew Huffstetler, Jeff Ryan, John Dufilho. Photo credit: Jerome Brock
"I think this is my fave song on the record," says James Henderson of Dallas, Texas-based band MOTORCADE about "When The Hit Comes." The song is taken from the foursome's self-titled debut album, out January 19th via Idol Records. "I had a spinal injury and was supposed to go in to get a shot that would take the pain away. I was in crazy pain. The lyrics are about the relief I was still waiting on. Incidentally, the 'hit' never came. A chiropractor practically tore my head off and fixed it."
Hitting on every pressure point of late '80s-early '90s button-the-top-button songcraft a la Depeche Mode, New Order, Echo & The Bunnymen, The Jesus and Mary Chain, and so on, the 11 songs in 40 minutes on the debut album from MOTORCADE will melt away the years for anyone who grew up in the era, and make anyone who wanted to, jealous.
The members of MOTORCADE — Andrew Huffstetler (Voice), James Henderson (Guitar, Keyboards, Voice), John Dufilho (Bass, Voice), and Jeff Ryan (Drums) — have previously recorded and/or been in touring bands with St. Vincent, The Apples in Stereo, The War on Drugs, Daniel Johnston, and many more folks you adore.
The fruit of these dues paid is a fine and fluid debut album that sounds quite effortless.
"When we first started actively playing together, we had a couple of my ideas and just played them to see if we could do it," says Henderson. "It worked out alright, but then I realized we'd need more songs," he continues. "So that was the impetus to start writing."
The rest of the album is no afterthought, to be sure. Everything here is sent over the moon by serious production chops and musicianship, owing again to the substantial pedigree that these guys came to the studio with.
"For me, production and songwriting go hand-in-hand," Henderson says. "The sounds are every bit as important as the notes and chords being played."
Tour dates:
1/20/2018: Dallas, TX at GOOD Records Warehouse (Record Release Show)