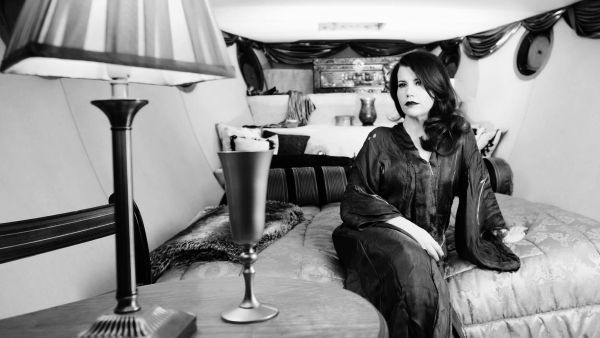 10 July 2018
Linda Em – Photo Credit: John Dawson
There seems to be a growing buzz surrounding music made by artists from the Emerald Isle. While Ireland boasts a burgeoning electronic and rock scene, folk and roots music have always tugged at the minstrel's heart and, as such, singer-songwriters account for a large bulk of the country's artists. Yet we all know, like with anything, that the cream always rises to the top.
Today we present you the crème de la crème among artists in this genre, as today we premiere "Wild Fire", the first single from Linda Em's forthcoming London Irish EP, to be released via Talking Elephant Records.
Linda Em is a London-based Irish-born songwriter. While her previous output has centered around folk and roots music, often underlined by a healthy Celtic foundation, her new material ushers in a novel and welcome stage in her career.
Calling to mind offerings by such artists as Stevie Nicks, Nick Cave, Marianne Faithfull, and Mazzy Star, Linda Em has wisely gambled to find a winning formula with this song. The tandem of female and male voices play off one another, with Linda's vocals as fiery as Stevie Nicks ever were – in or out of Fleetwood Mac. While most reminiscent of Nick Cave's duet with Kylie Minogue in "Where the Wild Roses Grow", the thematic in this track is not gruesome at all and the roles are reversed with no hint of complacency. In "Wild Fire", we have a quivering ballad and sizzling chemistry with a female highly impassioned protagonist sparring in turns with a level-headed male. Fascinating, flawless, and invigorating.
This EP is the first step in a different direction for Linda, towards a more atmospheric and spacious sound and vocal performance. It is both poetic and storytelling while still being brutally honest and personal. Her pure and raw vocals beautifully convey a nostalgic lyrical narrative, her warm endearing vocals drawing the listener into her musical story- telling.
""Wild Fire" is actually about the power struggle in a relationship built on control and passion where there can be no victor." Linda Em explains, "This is definitely more of love story or indeed a power battle. If you watch Game of Thrones, for instance, you'll see that Wild Fire was one of their deadly weapons of choice. The fear of wild fire is indeed a fantastic metaphor for human passion and love and energy that could not be controlled or tamed. The song is also an expression of a woman's desire for freedom and the sadness that comes when two lovers simply aren't right for each other. Even if they have this intense love, we realize as we get older, that love alone just isn't enough."
Originally hailing from Waterford, Ireland, Linda's family immigrated to London's East End in the 1980s. A natural singer, songwriter, and storyteller, her lyrical narrative is comparable to that of authors, poets, and playwrights with a strong visual essence, stimulating the listener's own imagination. Her music explores a wide array of themes from forgotten fateful stories and uncelebrated heroines of the past to her own personal and family experiences. 

Linda first started singing blues and rock 'n' roll in pubs and clubs in her early twenties before meeting Chris Wyatt, with whom she wrote and recorded her first album Shadow Lands in 2015. Her sound has grown to adopt strong elements of Americana and folk noir with an ominous and atmospheric Celtic undercurrent to it and splashes of gospel and soul.
London Irish was recorded, produced, and mastered at Orphan Recording, Dublin by Gavin Glass (Paul Brady, John Grant, Lisa Hannigan, Mundy and also music director for John Carney's film Sing Street), and mixed by Scott Halliday (John Grant, Lisa Hannigan, and previously guitar tech for Prince and James Vincent Mcmorrow).
"As a lyricist I'm telling a story and, through working with producer Gavin Glass, I think the musical side reflects and illustrates that. Gavin has managed to give the songs and sound a strong cohesiveness even though the songs are all written with different people," says Linda Em.
Linda Em produces music in an extraordinary mix of influences and genres, blending folk (revisited from a current London / Irish cultural perspective), a bit of rock, Celtic melody, and American blues. Her music is timeless, filtering new compositions through the prism of her musical heritage to produce an overall modern day eclectic feel.
The London Irish EP will be available through the regular online stores and streaming platforms as of September 21st, and will also be available on CD from Talking Elephant Records. A few days later – on September 26 – Linda Em's EP launch show will happen in London at Water Rats with support by Crayon Angels and JMK James.
TRACK LIST
1 Wild Fire
2 Two Hands
3 Little Lightmaker
4 White Horse
Also listen to one of her earlier singles:
LINDA EM
Website
Facebook
Twitter
Apple Music
Instagram
YouTube
Soundcloud
Spotify
comments powered by