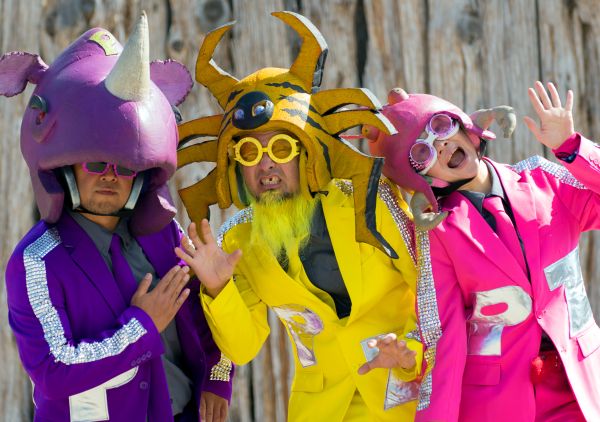 26 March 2018
Peelander-Z (L-R): Peelander-Purple, Peelander-Yellow, Peelander-Pink. Photo Credit: Ryota Mori
Peelander-Z – the self-described "Japanese Action Comic Punk Band" – will follow-up its 2014 full-length hair metal tribute album Metalander-Z with what can only be referred to as a "back to basics" album from the group. Go PZ Go will be released via Chicken Ranch Records on April 6th.
Go PZ Go, Peelander-Z's 9th studio album, comes on the heels of a much heralded documentary about the band Mad Tiger. The film, directed by Jonathan Yi and Michael Haertlein, was acquired by Film Movement and can now be seen via Netflix.
Now, with Go PZ Go, the act also delivers its most listenable album, one that doesn't merely act as a fun souvenir and reminder of the memorable experiences that Peelander-Z brings in its live performances. In fact, Go PZ Go is an addictive record all on its own that will appeal to any true punk rocker.
The Big Takeover is extremely excited and pleased to host the premiere of the manic, melodic, zany, and joyous pop-rocker "You Have Nice Tee Shirts." Peelander-Yellow has this to say about the wild and exuberant tune: "Who have nice tee shirts? If you have Peelander-Z nice tee shirts, you can do anything!!! Dance, Jump, spin, scream, fly!!! Get nice tee, then sing our new song "You Have Nice Tee Shirts" with us!!! Yeah!!!"
As usual, the release of Go PZ Go on April 6th will be followed by another massive tour where Peelander-Z guarantees intense audience participation and will take the opportunity to "eat your smile," as band-leader Peelander-Yellow terms what could ultimately be construed as the group's mission statement.
TOUR DATES:
04/12/2018: Flagstaff, AZ at Green Room
04/15/2018: San Diego, CA at The Casbah
04/16/2018: Los Angeles, CA at Viper Room
04/17/2018: Morrow Bay, CA at The Siren
04/18/2018: Las Vegas, NV at Beauty Bar
04/22/2018: Bend, OR at Volcanic Theater Pub
04/23/2018: Portland, OR at Bunk Bar
04/24/2018: Seattle, WA at The Funhouse
04/26/2018: Bozeman, MT at Zebra Lounge
04/27/2018: Helena, MT at Jester's
04/29/2018: Boise, ID at Neurolux
05/01/2018: Salt Lake City, UT at Urban Lounge
05/02/2018: Ft. Collins, CO at Hodi's Half Note
05/03/2018: Denver, CO at Streets Of London
05/05/2018: Sioux Falls, SD at Bigs Bar
05/06/2018: Fargo, ND at The Aquarium
05/07/2018: Minneapolis, MN at Turf Club
05/09/2018: Tulsa, OK at Mercury Lounge
05/10/2018: Norman, OK at Opolis
05/11/2018: Denton, TX at Dan's Silver Leaf
05/12/2018: Austin, TX at Barracuda
Website
Facebook
Twitter
YouTube
Instagram
Bandcamp
Chicken Ranch Records
comments powered by