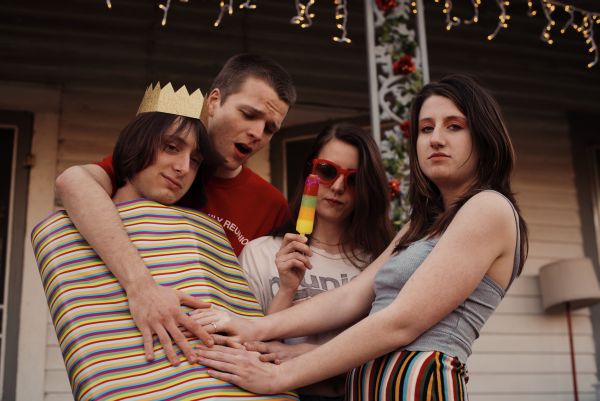 15 March 2018
Nihilist Teenager; Photo Credit: Alexa Rivera
Nihilist Cheerleader is making a name for themselves in the thriving Athens/ Atlanta music scene with their raw, Riot Grrrl- inspired punk sound. The band formed in 2015 in Athens, Georgia, and found early success in a saturated scene with their new take on an established concept of "punk".
The band brings a charged energy to their live and recorded performances that is engaging and refreshing. Nihilist Cheerleader's sound appropriately reflects the band's name in it's duality- both turbulent and controlled, angsty and uplifting, thoughtful and effortless.
What sets them apart from other musicians in their midst is their story-like songwriting. Like the artists that have inspired them, the band's music is largely rooted in political and social commentary. Their lyrics command the listener to take a closer look at social injustices related to gender and power structures, and ones internal dialogue. Rather than aimlessly identify problems they see, the band's intention is to start a constructive conversation about how we can combat and resolve such issues. Their songs inspire rebellion, self exploration, change, and especially dance.
Following the release of one EP, three singles, and two southeastern tours, the band is releasing their first full-length album, Riot, Right? with Perfect Attendance Records on March 30th, and will be touring the east coast this summer. In the past two years the band has received multiple music awards from a local publication, voted by the public as best startup band, best punk/hard rock band, and best live performance. The members are excited to release their new music, as well as some accompanying music videos, as their project continues to grow and evolve.
The Big Takeover is excited to premiere the raw and raucous "You Love Proximity" off the upcoming LP. The band comment on the song, explaining, "This is the only track on the record that we have never performed live, the newest of the new. Lyrically, it reflects on interpersonal and romantic relationships. How sometimes it just feels like people/ loverz really only care for you because you're close, there, accessible. Up close you can get caught up in the contrast, the crests and troughs, but what you reach for is limited by what you can see. In other words, DON'T just use Tinder, put yourself out there and try Grindr, eHarmony, FarmersMeet, and even Christian Mingle."
comments powered by