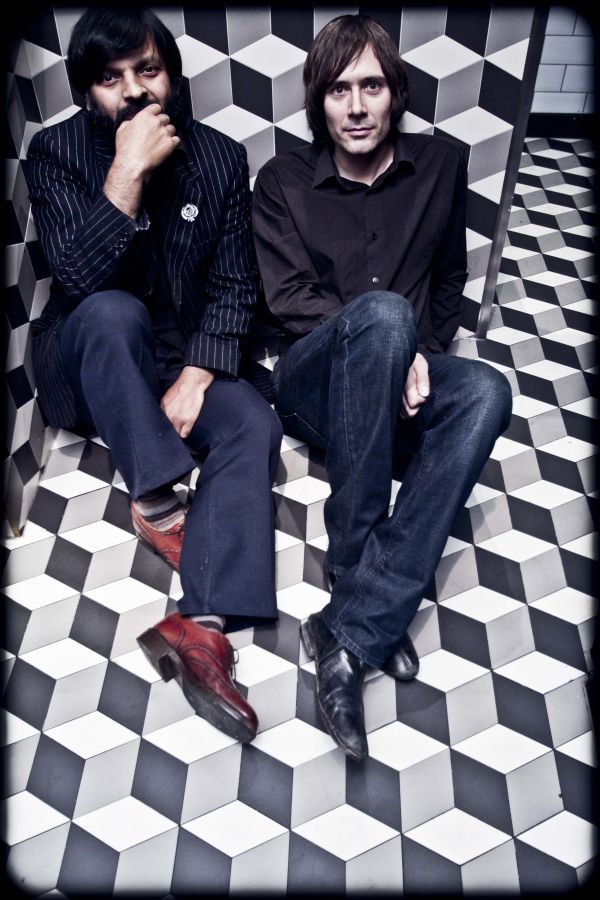 28 July 2018
Cornershop – Photo Credit: Roger Sargent
Pioneering British indie rock/pop band Cornershop has had a long and acclaimed run in the music field, creating engaging music that has melded and shifted from indie/alternative rock and pop, Indian music, and electronic dance music over the decades. They signed to David Byrne's US record label Luaka Bop, hit big with single "Brimful of Asha" in 1997 (from breakthrough album When I Was Born for the 7th Time), and have released a string of highly praised albums.
Original members Tjinder Singh and Ben Ayres form the core of the current band line-up and they've been releasing LPs on their own label, Ample Play, the most recent records being 2012's Urban Turban and an easy listening version of their first album in 2015.
The Big Takeover is extremely pleased to host the latest material from Cornershop, a double-A-side single consisting of original song "Double Denim" and a faithful cover of the classic tune"Sugar Sugar" by The Archies. Today we are premiering the video for "Sugar Sugar", along with its audio release. Cornershop's take on "Sugar Sugar" is a sweet, faithful, and infectious throwback to the 1960s; a tuneful and upbeat era, at least in song format.
While "Double Denim" is presented as the front side of the single, the "Sugar Sugar" flipside is a enjoyably retro ride and was chosen after someone on Twitter said Cornershop were the real life Archies. In 1969 the song topped the charts both sides of the Atlantic, creating a phenomenon, as well as a fictional cartoon band.
The groovy video for "Sugar Sugar" was produced, directed, and photographed by Phil Miller and showcases the far out dance moves and vintage threads of choreographer and stylist Natalie Reinoso.
Cornershop are currently in the studio working on a highly anticipated new album and it's sounding hot!
Band leader Tjinder Singh graciously took the time to answer some questions about the recording of "Sugar Sugar", its accompanying video, and the double-A-side single.
What sparked the thought of covering "Sugar Sugar"?! I mean, there are so many golden oldies out there, I'm curious why this one was picked and not another.
It was sparked by someone on Twitter saying that they thought that Cornershop were like the real life Archies. At first we found it rather surprising, but then after delving into their catalogue we realised exactly what they meant. We are a multi-racial Archies! Then it was chosen to do "Sugar Sugar" as a cover because there was so much information about how they recorded it, it was fascinating, such as Ray Stevens' (of "The Streak" fame) involvement. The learning of all this was in itself very enjoyable.
What's the Cornershop spin on this cover?
Contrary to any spin, we tried to do what was done originally. It's a certified classic and to move away from it in any way would be sacrilege. Pistols would need to be drawn. The only real difference is we didn't take as many drugs.
I'd like to know the backstory of how the video came about. How did you connect with Natalie Reinoso, who performs in the video? Did you or the video director instruct her on what to do, or did she come up with the dances and retro wardrobe herself?
Natalie is a friend of a lady we know who works for Depop. Both these ladies used to go to nightclubs in Brazil all the time. She sorted out all of her wardrobe and the dance routine which made it easier for the video to be put together during half a day in London's Stoke Newington. She's quite a lady.
Lastly, what is the reason for a double A-side release instead of an EP at this moment in time?
Well we had two new songs, we had two videos, and we had to release them together. Both songs seem to go well together; they are both upbeat and summery and seem to represent London as it is now with all the heat wave weather we're having, so the timing seems right. We've not had this [type of weather] since '76!
Website
Facebook
Twitter
Instagram
YouTube
comments powered by