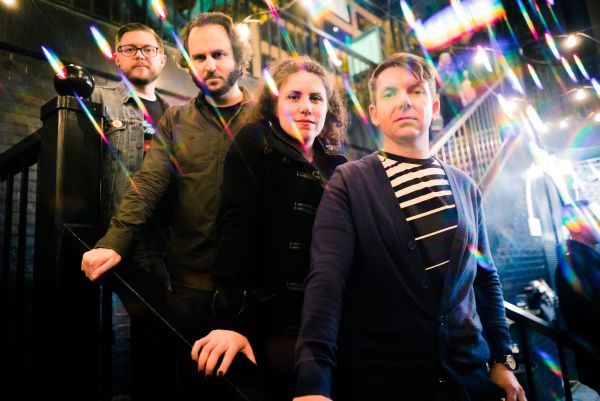 27 August 2018
Modern Time Machines – Photo Credit: Kimberly Zsebe (of ZB Images)
The haunting, bittersweet melodies of LA-based shoegaze/dream-pop outfit Modern Time Machines have been described as a "noisy, romantic hurricane for those who like their rock with intricate layers" (Buzz Bands LA). Boy/girl vocal harmonies feature heavily in the band's feedback-laced love songs, which have drawn comparisons to acts like M83, Medicine, and Sonic Youth.
Following the local momentum of their earliest shows, the band's first single "Dweeb" began receiving strong radio support from LA's KROQ 106.7FM. Continually refining their sound with "nuanced playing and killer hooks" (Los Angeles Times), the band was invited to perform live nationally in 2012 on Adult Swim's cult TV hit The Eric Andre Show, and their music will be featured in the upcoming film So Help You God by noted filmmaker* Ashley York* (Netflix's TIG).
Modern Time Machines' long-awaited second album, MTM, dropped this past spring. Produced by Josiah Mazzaschi (Jesus and Mary Chain, Nothing, Deap Vally), the album features contributions from Dave Dupuis (Film School, Nightmare Air), Kenneth James Gibson (Bell Gardens), Kaitlin Wolfberg (that dog.), and a song remixed by KCRW favorites, disco duo De Lux.
The Big Takeover is pleased to premiere the video for the dreamy "A Little Late", a quieter and more reflective track from MTM. It focuses on gentle acoustic guitar strum and soft, airy vocals from the band's singer/guitarist Ben Golomb within a slowly drifting, light keyboards-driven atmosphere, "A Little Late" lets the listener relax from a hectic day and float amid the sonic clouds for a while.
"A Little Late" features Jason Ruck from the band Film School on keyboards and Diana Christine Hereld on additional vocals.
Golomb relates, "The song was recorded at my home studio, and mixed by myself and Josiah Mazzaschi at The Cave Studio. It's actually the only song the band has ever released that's just acoustic-based without drums. A bit lighter than our usual sound. The music video was filmed by myself and Valerie Aiello, and I directed/edited it."
Modern Time Machines is currently in the studio working on recording a new single.
Listen to MTM at SoundCloud
Watch Modern Time Machines previous video for "Freefall (Can't Stop)" below. It was also directed and edited by Golomb and is an epic homage to classic TV:
Live Date:
FRI. AUG. 31 at THE SATELLITE
w/ Bizou, Empty Palace, High Priestess
1717 Silver Lake Blvd LA, 90026
Website
Facebook
Twitter
Instagram
YouTube
Bandcamp
Spotify
comments powered by