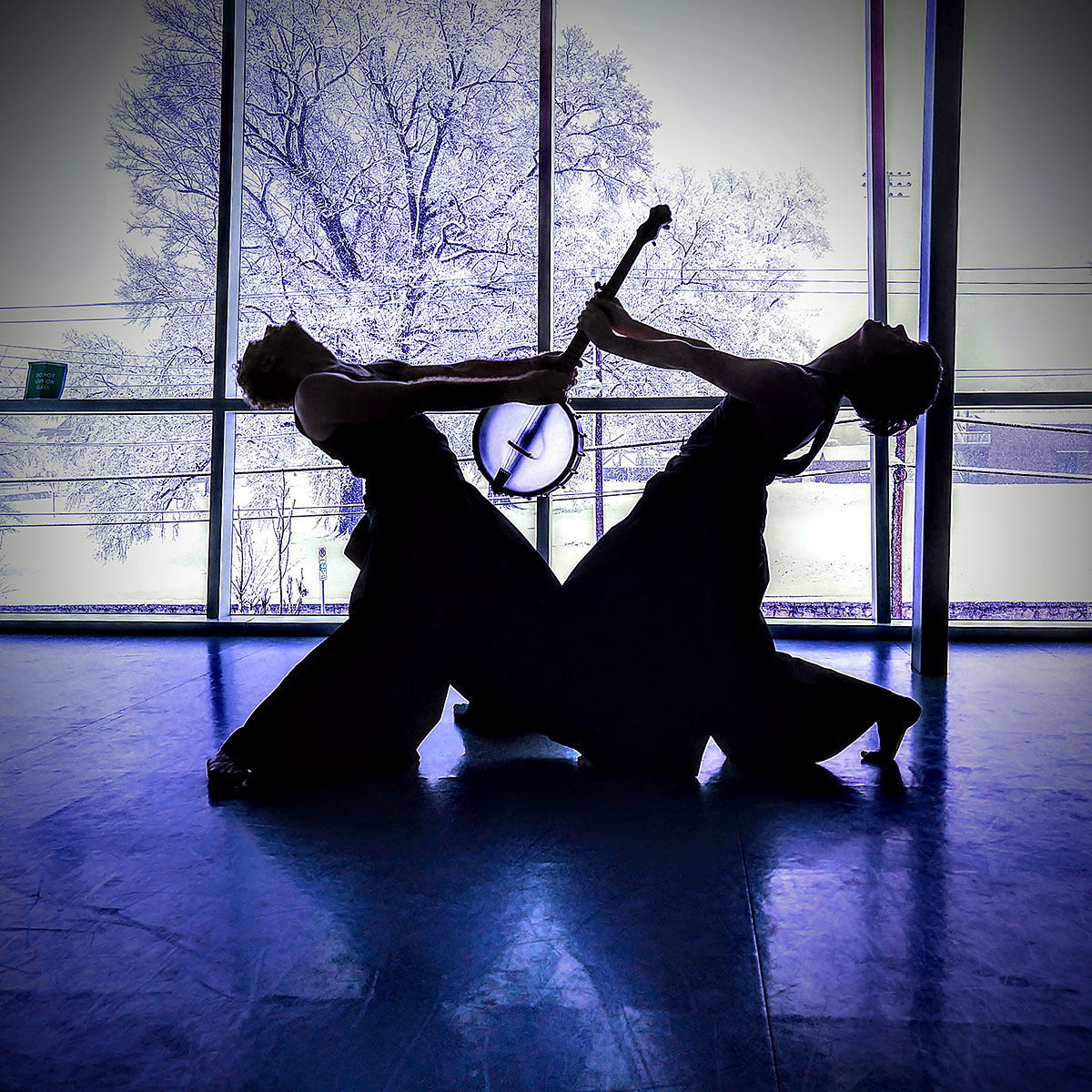 29 March 2018
"Every song fades away in an instant/No matter how strong or how true."
In a frozen, snowy wood, cold bodies move, entwine, detach, and fall into shadows and light, while a banjo strums and voices rise into the skies. George Harrison sang, "all things must pass away"; this is about that.
Down there we've copied and pasted words for you to read, but do yourself a favor and watch this first:
For Your Information
"The Bipeds is a dance-theater company/rock & roll band under the artistic direction of banjo-player/songwriter Curtis Eller and choreographer/dancer Stacy Wolfson. Wolfson and Eller have devised a unique compositional approach that seamlessly combines movement, music and lyrics to create a peculiar and compelling hybrid of dance and song. They cast the finished pieces with dancers and musicians possessing the curiosity, technical proficiency and requisite disdain for boundaries to delve into one another's mediums. Musicians become dancers, dancers become singers, and unhinged howls of wild abandon give way to moments of harmony and grace.
"The Expanding Bipeds: Wolfson and Eller have spent a year developing a series of music/dance duets which they have showcased in a variety of theaters, festivals and music venues in North Carolina, Virginia and New York. The performative vocabulary generated during the development of these pieces serves as the basis for an ambitious, evening-length show called "54 Strange Words", which has it's world premiere at The Fruit in Durham, NC this June.
"Sound & Imagery: The Bipeds band strives for a sepia-tinged, psychedelic sound. Imagine a soldier returning home after serving in The First World War, and discovering the transformative effects of LSD while listening to 78rpm recordings of North Carolinian banjo music. This is the sound of The Bipeds.
"The show's imagery is drawn from a series of nightmares and the failure of common language to adequately express these unsettling visions. Events unfold in a hallucinatory landscape of biomorphic abstraction and linguistic confusion. The theme of the work has proven well suited to the company's collaborative approach, and The Bipeds have assembled an ensemble of dancers, musicians and filmmakers who will be crucial to bringing this production to the stage.
"The Album and Videos: In the year leading up to the show's premiere, The Bipeds have produced a soundtrack album of strange, psychedelic banjo music and several haunting companion videos. The videos were shot and directed by award-winning filmmakers Jim Haverkamp and Alex Maness of Shadowbox Studio, and the album was recorded by acclaimed producer Joseph Dejarnette of Studio 808A."
Credits
The Bipeds "A Ragged Sayonara"
Written & Choreographed by
Stacy Wolfson and Curtis Eller
Directed & Edited by
Alex Maness
Videography by
Alex Maness & Jim Haverkamp
Curtis Eller : banjo & lead vocal
Stacy Wolfson: harmony vocal
Dana Marks: harmony vocal & operatic aria
Jack Fleishman : twang guitar
Joseph Dejarnette : bass & baritone guitar
Gabriel Anderson : drums
Recorded & Produced by Joseph Dejarnette at Studio 808A
comments powered by