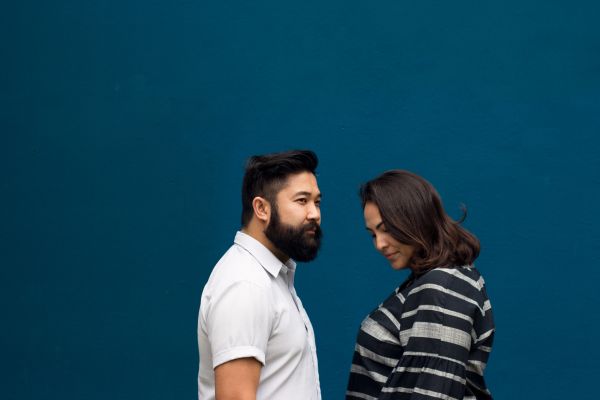 20 September 2017
The Singer and The Songwriter; Photo Credit: Michelle Kim
The Singer and The Songwriter are the California modern-folk duo of Rachel Garcia and Thu Tran. On October 6th, they are releasing an EP of six brand new songs entitled, DIRECTIONS, their follow-up to the critically-acclaimed Ballads for Trying Times (2016) and What a Difference a Melody Makes (2014)
Today, Big Takeover has an exclusive premiere of the lead single and music video off of DIRECTIONS: the driving, heartfelt road anthem, "Anywhere, Everywhere." The video is an ode to the thousands of miles logged by the duo in their Toyota Prius, traveling all over the US to 79 different cities across 25 different states. The single's accompanying video collects footage taken by the duo over the past year of touring, playing shows at clubs, bars, restaurants, and living rooms across the country.
"We wanted to explore a different way of writing on this album, so we started our process with rhythmic ideas. We wanted strong, anthemic drums to play a big role in these songs," the duo said about the making of DIRECTIONS. You can definitely hear the payoff of this new approach in "Anywhere, Everywhere." As the song begins, it chronicles small, intimate moments of life on the road, and then opens up into a huge, sweeping chorus filled with big drums, swelling guitars, and celebratory trumpets.
DIRECTIONS was recorded at Hyde Street Studios in San Francisco with producer and engineer Scott McDowell (The Head and The Heart). Featured on the album are SF Bay Area musicians Aaron Kierbel (drums), Darren Johnston (trumpet), Joe Lewis (bass), Scott Griffin Padden (bass), Mia Nardi-Huffman (violin), and Gerry Gross (piano).
DIRECTIONS will be released in tandem with the duo's appearance as an Official Showcasing Artist at the 2017 Folk Alliance Region – West Conference (FAR-West) in Bellevue, WA on Friday, October 6th. The showcase performance kicks off a fall tour of the Pacific Northwest with stops in Bellingham, WA; Vancouver, BC; Seattle, WA; Sisters, OR; Willamina, OR; and Roseville, CA. Find the duo's first batch of tour dates below, with more dates being added soon.
9.23 – Culver City, CA – Street Food Cinema
9.27 – San Francisco, CA – Piano Fight
10.6 – Bellevue, WA – FAR-West Official Showcase
10.7 – Bellevue, WA – FAR-West New Voices Showcase
10.11 – Bellingham, WA – WWU Underground Coffeehouse
10.12 – Vancouver, BC – Guilt & Co.
10.13 – Vancouver, BC – Trees Organic Coffee
10.14 – Seattle, WA – Sofar Sounds
10.16 – Sisters, OR – The Open Door
10.20 – Willamina, OR – Wildwood Hotel
10.22 – Roseville, CA – The Acoustic Den
Find out more from The Singer and The Songwriter at their website
comments powered by