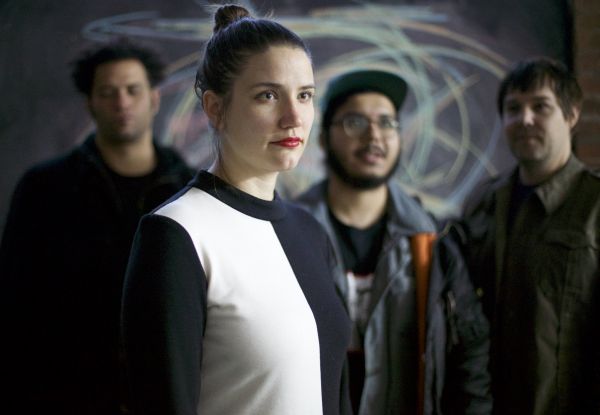 22 May 2017
Panda Riot; Photo Credit: Analu M. Lopez
Chicago-based Panda Riot is releasing a new album, Infinity Maps, on June 9th, a full-length follow-up to their last LP, Northern Automatic Music from 2013. The shoegazey, dream-pop quartet has meticulously crafted this 18-track record which brings together the band's '90s-inspired pop sensibilities with an otherworldly ambience that feels like a soundtrack for falling in love in outer space.
In typical DIY fashion, primary guitarist and audiophile, Brian Cook, recorded the band and mixed the album in the group's East Garfield Park warehouse/studio, giving him unlimited time to obsessively construct the songs' complex and carefully conceived layers of sound, some of which self-referentially include samples from other tracks on the album. When a sound wasn't quite right, Cook went so far as to build his own guitar pedals to create the perfect tone. The result is well-worth the four year wait.
Panda Riot will be touring the east coast this summer in support of the album, hitting up Detroit, Boston, Philadelphia, and NYC (w here they will be playing with nouveau pop rockers Mahogany).
Infinity Maps will be available on CD and in digital formats with a vinyl release forthcoming later this year.
The Big Takeover premieres the video for "Arrows", of which the band says, "We shot this thing in an abandoned UFO-Dome-Hippy-Commune from the '70s and hand-animated over the footage."
Tour Dates
6/15 Detroit UFO Factory 6/16 Philadelphia Ortieb's
6/17 NYC Tran Pecos 6/18 Boston Plough and Stars
Pre-Order Infinity Maps at iTunes
Official Site
Facebook
Twitter
Instagram
Bandcamp
SoundCloud