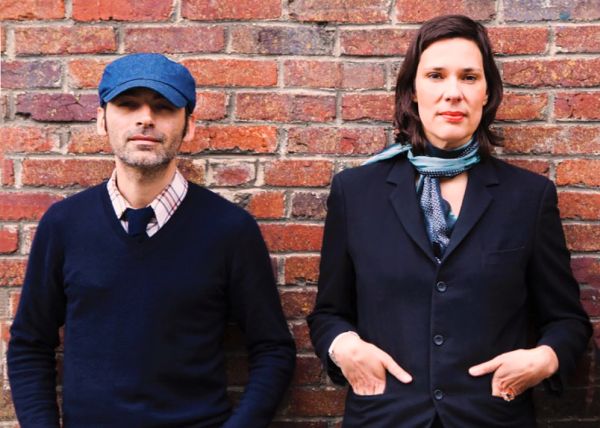 10 October 2017
Astrobal and Laetitia Sadier; Photo Credit: Olia Eichenbaum
Today The Big Takeover has the pleasure of premiering a new collaborative track from French electronic producer Astrobal and Stereolab queen Laetitia Sadier. Entitled "Australasie", this is a masterpiece. Here it would be inappropriate to use the term 'musical backdrop' because it's back there, but also upfront, and above us – it's everywhere. It is, along with Sadier's intellectual lyrics and trance-inducing yet lulling vox, like stardust.
Stardust… it is perhaps this galactic combination of thoughts, sounds, and effects that gave the EP from which it is derived it's name. "Australasie" is the lead track from Astrobal's forthcoming Memories of Stars EP, which is being released via German label Karaoke Kalk
This is psychedelic, yet calculated. Spacious, yet right on target. This is dreamlike, yet as 'here and now' as astral dreamers need to be to keep their feet on the ground. It feels like it's from a utopian future, yet firmly rooted in a handful of genres famously associated with the French. This is absolutely blissful electronic grandeur.
The innovation doesn't stop there, but extends to the accompanying video, produced by Patrice Curtillat (a.k.a. Poborsk). His fantastic illustrations seemingly reflect Australasia, as clouds of drones and satellites float in the sky, before inevitably diving in a kaleidoscope from where one emerges on stellar landscapes, where colors and hybrid forms blossom like mechanical insects.
Astrobal is the solo project of Emmanuel (Emma) Mario, who has collaborated with some of France's most progressive artists. Apart from Laetitia Sadier and her project Monade, this also includes Arnaud Fleurent-Didier, Holden, Institut, Hyperclean, and Iko Chérie. He also does quite a lot of production work, having produced several of Sadier's albums now, released via Drag City, and is currently touring internationally as the drummer in the Laetitia Sadier Source Ensemble.
"Emmanuel became a long-time collaborator and he's very good at working with other people, but there was also a desire to do his own stuff. He was kind of doing it before he started working on this project, but then I guess he found his focus and made this incredible piece of work," says Laetitia Sadier.
She continues, "From one track to another, you're transported to very different countries, but it's also very familiar to Emmanuel, and I find that to be a real strength: to have such a variety of different styles, but still be familiar and to have some similarity. He reaches really far out to find certain tracks and to bring them back to a whole."
Karaoke Kalk was founded by Thorsten Lütz in 1997. By releasing music that bridges several electronic genres, including minimal, ambient, and techno, this niche label is helping to define the sound of contemporary pop. Earlier this year, the label co-released Astrobal's debut full-length album Australasie with LA-based Plug Research.
Memories of Stars will be released on November 24, 2017. But you can already pre-order the album through Bandcamp
We also invite you to enjoy several more of his videos from over the past few years.
ASTROBAL
Official Site
Facebook
Twitter
SoundCloud
Instagram
YouTube
Bandcamp
Tumblr
Spotify
comments powered by