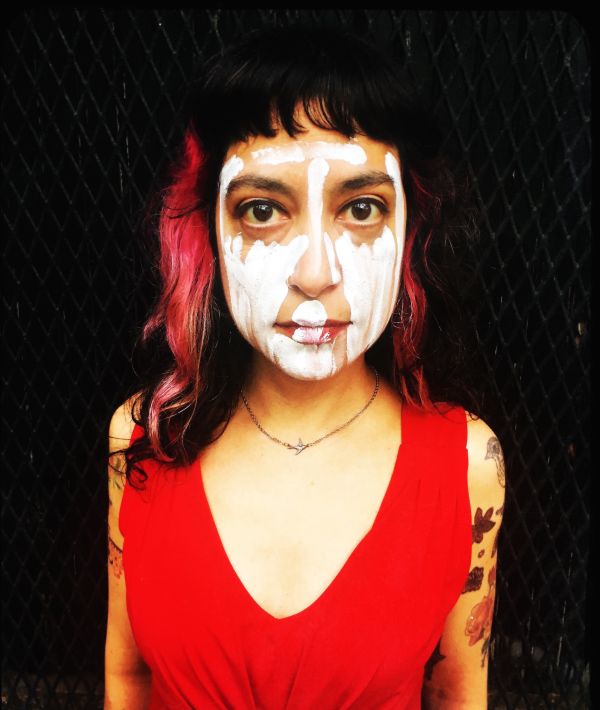 31 October 2017
Elisa Flynn; Photo Credit: Chris Carlone
Raised in Yonkers, NY and learning piano at a young age, Elisa Flynn's musical life was sparked by her discovery of The Clash. She stays tied into her initial punk energy and uses her participation in her home of Brooklyn's experimental music scene to create luscious, driven, and dark folk-pop anthems on new album The World Has Ever Been on Fire, which comes out on November 17th.
The LP was produced collaboratively with electronic artist Arts and Rules, Flynn details, "He was most interested in adding more intense dynamics than my recordings have had in the past." You can hear those dynamic energies throughout the ten rock, dance, and folk songs on The World Has Ever Been On Fire that can't be tagged by a single genre.
Flynn explains that her new single "Before He Went Down" is loosely based on a story of a friend whose partner had a psychotic break and thought that he was Jesus. The video, created by Chris Carlone and Flynn, is a literal/psychedelic-tinged mash-up of the story that the song tells.
"Chris and I have been friends for 10 years, and he and I have collaborated on photos and videos together since then. I came up with basic concept for the video, and he and I fleshed it out over a few weeks. One thing Chris insisted on this time is that I wear COLOR and that the video bring in color and a little psychedelia. I usually wear all black, and have some old goth tendencies that he thought I needed to break out of this time around! We wound up filming in Prospect Park in Brooklyn on May Day, and it was incredibly gorgeous and bright. The dancers in the video are all dressed in single colors as well." reveals Flynn.
She continues, 'I'm trained as a visual artist, and I am always influenced by that in all of my work, music included. We brought in a few nods to video and performance art by Pipilotti Rist, and the wrapping segment is a nod to Yoko Ono's "Cut Piece.""'
The record release show for The World Has Ever Been on Fire is at The Way Station in Brooklyn on November 3rd.
Elisa Flynn's fall 2017 tour dates
11/3 – 8:00 pm
Brooklyn Record Release show for The World Has Ever Been on Fire
The Way Station
Brooklyn, NY
11/19/17 – 8:00 pm
Little Grill Collective
Harrisonburg, VA
with Teething Veils, Nice Breeze
11/20/17 – 8:00 pm
Galaxy Hut
Arlington, VA
with Nice Breeze, Anna Connolly
12/2/17 – 8:00 pm
Conor Byrne
Seattle, WA
with Ben Wildenhaus, Longboat
12/5/17 – 8:00 pm
Octopus Literary Salon
Oakland, CA
with Hazel Atlas, Katie Wheeler-Dubin
Official Site
Facebook
Twitter
Instagram
Bandcamp