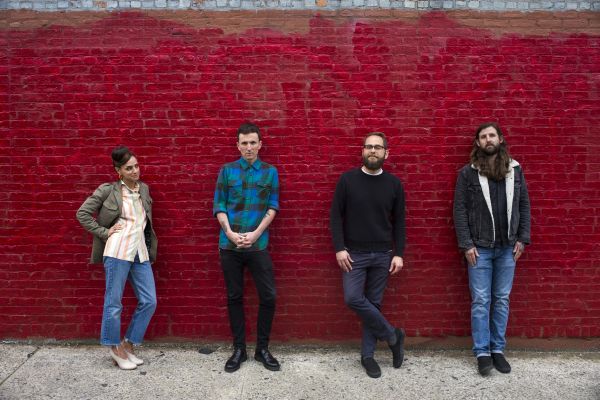 8 August 2017
LAPêCHE; Photo Credit: Andrew Mitchell
LAPêCHE is a four-piece born out of Brooklyn, New York. Fronted by singer-songwriter, Krista Holly Diem, the band boasts a sound inspired by their indie roots, delivering a dark, catchy rock that's simultaneously somber and uplifting.
Intense and lovely, Krista's writing draws inspiration from both past and present, touching on themes light and dark. Collaboratively, with her husband and bassist, Dave Diem, LAPêCHE also includes the intricate and thoughtful guitar slaying of Drew DeMaio as well as the creative rhythm of Jefferson Gensterblum. The band combines perfectly to guide Krista's provocative melodies over their uniquely driving hooks.
LAPêCHE's debut full length, The Second Arrow, was recorded and produced by the legendary J. Robbins (Jets To Brazil, Clutch, Quicksand, Ponytail) at Magpie Cage in Baltimore. The new record dives deeper, darker and hits harder than their previous EP, Bright and Bending, while still driving that '90s fuzz.
Grit-laced with melancholy hopefulness, The Second Arrow will be released on digital and vinyl September 8th via Bakery Outlet Records and will appeal especially to fans of Rainer Maria, Harmony Woods, and Waxahatchee.
The Big Takeover is pleased to premiere the video for "Breaking Parts", a single off the upcoming album. The black 'n' white performance video slowly spins around at the start, as restless as the dynamic and melodic song, before settling for a while on each band member. Footage of water balloons bursting on the pavement is superimposed on the members as they make quite a splash with the kinetically catchy tune that carries an undercurrent of wistful regret due to Krista's vocals.
Pre-Order The Second Arrow by LAPêCHE here
Live Dates:
Aug 9 at Cape House, Brooklyn
Sep 8 atThe Footlight, Brooklyn (record release show)
Sep 23 at DC9, DC
Sep 29, at Ortlieb's, Philly
The band took some time out to answer a few questions about their upcoming album and the meaning behind the video for "Breaking Parts":
Hello! How are things going in Brooklyn these days, music scene-wise?
There's a ton going on; too much maybe. People can unfortunately get jaded from an already saturated scene. But there are a bunch of venues and loads of bands doing posi, cool, and creative things. Some of our favs that we've recently come across have been Haybaby, Wild Pink, Little Hustle, Hotline… the list really is too long. You can go out any night to great venues like Alphaville, Sunnyvale, The Glove, to name a few, and see local and/or touring bands killing it. There are good labels putting out great music as well.
You'll be releasing your debut album, The Second Arrow, on September 8th via Bakery Outlet Records. Can you give us a little descriptive taste of the album?
We like to joke that it is inspired by, but not derivative of your favorite bands! Seriously though, it is inspired by our '90s roots, as this is a second act for most of us (Jeff never took a break, however). We got us some indie, some folk, some post-punk, and some shoegaze, and put it all in a blender with some DIY ethos. Outside of labels and influences, this record is exceptional to us and we are super-proud to share the songs. We hope it brings some joy to the people who have a listen. We hope they hear and feel what we hear and feel.
How did you connect with the renowned J. Robbins (Clutch, Quicksand, Jets To Brazil) who recorded and produced your album?
Our drummer Jeff had recorded with J before and the two became friends. While writing, he asked us if the band might be interested in heading to Baltimore to record the EP. As we were fans of J, as an artist and engineer, we were all super into it. J did not disappoint. It was an incredible experience working with him and we couldn't be happier with his work on the EP, and The Second Arrow.
What are some of the differences between your previous EP, Bright and Bending, and the new album?
Well, a few things. Speaking of J, he went from being mostly an engineer on the EP to engineering and producing the album. I think you can hear that on this record. He helped us bring up the rock on this effort and really got even more invested in helping get across the underlying darkness in the music without overshadowing the hope that is embedded in the songs on The Second Arrow. Our writing certainly tightened and improved as a band as we became more collaborative and allowed for more musical influences to seep in. This record is an honest reflection of who we are.
Can you give some backstory for the video for "Breaking Parts" premiering here at The Big Takeover?
We had done a couple videos with our friend and talented filmmaker, Jacob Halpren. The first two were wonderful and bright. On this song, we felt the music and lyrics conveyed a hopeful melancholy. So we wanted a visual component that helped underscore that feeling. I think our '90s aesthetic influence may be painfully on display in the video. We are super-stoked on it.
comments powered by